Reflection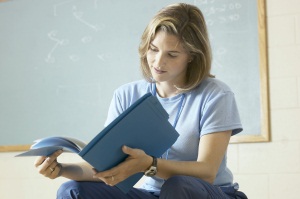 For teachers who are not in the classroom right now or are substitute reserve teachers, teaching experience and professional development are more than just renewing a teaching license. Sometimes courses are done in a hurry, or workshops are attended just to get the certificate and the learning objectives don't stick or sink in. Well-meaning teachers often pay attention and make an effort to learn, but in the middle of test scores and other classroom demands, it can be hard to apply what has been learned.
The end of the year occurs in what is actually the middle of the school year, it is an exceptionally great opportunity for reflection, and to think about how we have grown in our professional practice. Take a few moments to consider what you've learned as a teacher. It may be a professional development course or workshop, or even a book you read, or something that you liked about another teacher's approach to teaching. Next, think about if and how you were able to implement it. Finally, consider the result. Did it work? Did it make a difference?
Reflection is an essential aspect of growing as teachers. Learning and implementing is very important, and when we take time to do this, we can make wise decisions regarding out teaching practices.
What is the most effective new teaching strategy that you implemented?