Teacher Resources, Tools & Giveaways for the week (Apr 13 – 20, 2013)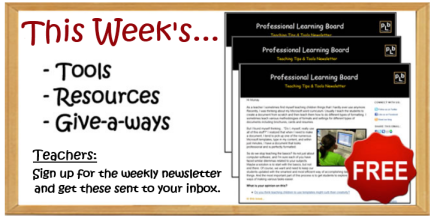 TOOLS
Moonberri
A secure and fast file sharing tool.
Poetry Idea Engine
A simple, interactive tool that gives ideas for poems.
Animated Science Lessons
Interactive materials for elementary school science lessons.
RESOURCES
Animated flow chart
A guide to create animated flow charts using Microsoft Office PowerPoint 2007.
Estimate or Compute?
An activity to reinforce the math concept of estimation and computation.
NanoSpace Molecularium
A virtual amusement park that students can click through to find videos, games, and other short lessons about atoms and molecules.
GIVEAWAY OF THE WEEK
NYNE N-19 Alarm Clock
Enter for a chance to win this alarm clock.
808 Headphones
Fill in the rafflecopter for a chance to win a pair of head phones.
As always before using tools or resources be sure to conduct due diligence regarding alignment of the material and content with your local values, curriculum, and standards.