Teacher Resources, Tools & Giveaways for the week (Feb 9 – 16, 2013)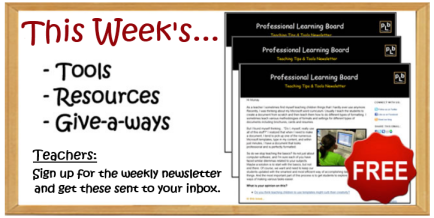 TOOLS
Claco 
Collaborate with other educators and align lessons to the Common Core State Standards.
ClassDojo
A classroom management system that helps teachers to track student behaviors.
justbeamit
A service to transfer files to other people.
RESOURCES
Nouns and Adjectives Are Not Just Words
A visual and tactile approach to teach nouns and adjectives.
My Goals
A sample goal and action form.
Exit Slips
A strategy guide that introduces the concept of using exit slips in the classroom.
GIVEAWAY OF THE WEEK
Kindle Fire HD
Enter for a chance to win your choice of a Kindle Fire HD, $199 Amazon Gift Card or $199 in Paypal Cash.
BionicBlox
Enter for a chance to win a 50-piece Explorer Kit.
As always before using tools or resources be sure to conduct due diligence regarding alignment of the material and content with your local values, curriculum, and standards.