Teacher Resources, Tools & Giveaways for the week (Jan 12 – 19, 2013)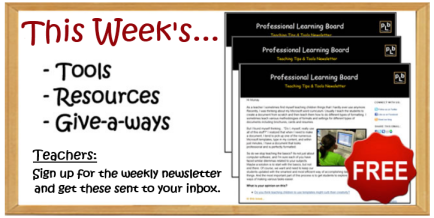 TOOLS
JustPaste.It
Share text and images.
Tux Paint
A drawing program with fun sound effects and an encouraging cartoon mascot who guides children as they use the program. Designed for K-6.
Cartoonist
An online tool to create multimedia stories, cartoons, comic strips or digital narratives.
RESOURCES
Graph dynamic linear equations
A lesson plan to help students learn about dynamic linear equations and graphing them using Microsoft Math.
Planet Nutshell
Find animated videos on internet safety for all grades.
InnerBody
An interactive guide to teach human anatomy.
GIVEAWAY OF THE WEEK
Wonderbook: Book Of Spells Bundle Pack!
Enter for a chance to win this pack which includes the game, a PlayStation Eye camera and a PlayStation Move motion controller.
DVD: Thomas & Friends: Muddy Matters
Fill in the form for a chance to win this DVD.
As always before using tools or resources be sure to conduct due diligence regarding alignment of the material and content with your local values, curriculum, and standards.