Teacher Resources, Tools & Giveaways for the week (Jan 19 – 26, 2013)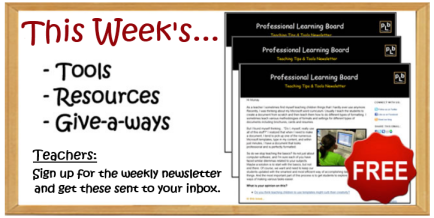 TOOLS
Zeen
Create visually attractive magazines for your class.
WeTransfer
Send big files (up to 2GB) without any registration.
Weavly
A web-based tool to mix videos, images and sounds.
RESOURCES
SimpsonsMath
Math resources on topics ranging from arithmetic to geometry to calculus.
Amara
A potential opportunity for students to build their language (English or foreign) and typing skills while doing good to help others. Not only would students be adding captions, sub-titles or translating video but they would also be strengthening their cognitive skills.
Wordia
Improve vocabulary in students by creating your own learning games.
GIVEAWAY OF THE WEEK
Hygloss Craft Products
Submit step-by-step instructions of any craft work for a chance to win Hygloss products worth $150.
Freebizmag: Office Bundle Giveaway
Here is a chance to win an HP Pavilion All-in-One Desktop PC and HP Officejet 4620 e-All-in-One Printer!
As always before using tools or resources be sure to conduct due diligence regarding alignment of the material and content with your local values, curriculum, and standards.