Teacher Resources, Tools & Giveaways for the week (July 6 – 13, 2013)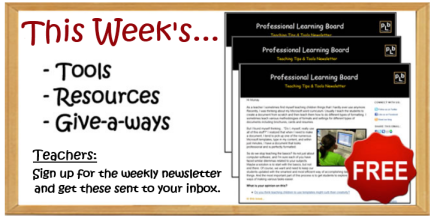 TOOLS
Short Calendar
Organize tasks and share via email.
plagium
Plagiarism detection tool.
PageFlip-Flap
Transform documents, pdf files and movies into an interactive flipbook.
RESOURCES
Math Chimp
Activities aligned with the Common Core.
Try Engineering
Games to help students understand engineering concepts.
Thingdom
A fun and challenging game to teach genetics.
GIVEAWAY OF THE WEEK
SuperME Cape Backpack
Enter for a chance to win this backpack.
Chronicle Books Comic-Con
Here is a chance to win this comic book.
As always before using tools or resources be sure to conduct due diligence regarding alignment of the material and content with your local values, curriculum, and standards.