Teacher Resources, Tools & Giveaways for the week ( Nov 10 – Nov 17, 2012)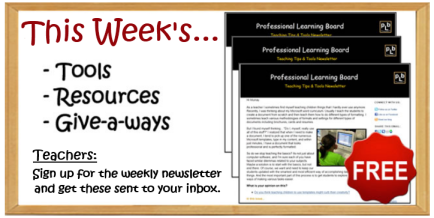 TOOLS
Xtranormal
Low-cost educator and student accounts enable creation of 3D animated movies.
youblisher
Showcase student work by creating flipbooks from pdf documents.
Ptable
An interactive and dynamic periodic table.
RESOURCES
ScienceNetLinks
Teaching tools, interactives, podcasts, and hands-on-activities for science.
Amara
A potential opportunity for students to build their language (English or foreign) and typing skills while doing good to help others. Not only would students be adding captions, sub-titles or translating video but they would also be strengthening their cognitive skills.
Microsoft Digital Literacy
Test students' digital knowledge using this assessment.
GIVEAWAY OF THE WEEK
Dreamwork's Madagaascar JumpStart Games
Enter for a chance to win a three month membership to JumpStart.com
DVD: Barney: Let's Go to the Doctor
Fill in the form for a chance to win this DVD.
As always before using tools or resources be sure to conduct due diligence regarding alignment of the material and content with your local values, curriculum, and standards.