Teacher Resources, Tools & Giveaways for the week (Nov 23 – 30, 2013)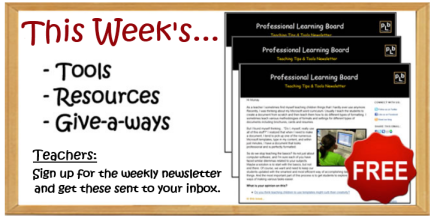 TOOLS
Chisel
An easy way to create graphic quotes.
GameSalad
Develop and publish games on all major platforms.
ChartGizmo
An online chart builder that can be used to visualize data.
RESOURCES
Adventures in Nonfiction: A Guided Inquiry Journey
Activities to help students develop and answer questions from gathered information.
Sentence Reading Magic
An app to help students read and build sentences.
Kahrd
An interactive learning website for all subjects and levels.
GIVEAWAY OF THE WEEK
Block Party
Enter for a chance to win this set.
Innotab
Here is a chance to win this children's learning tablet.
As always before using tools or resources be sure to conduct due diligence regarding alignment of the material and content with your local values, curriculum, and standards.