Teacher Resources, Tools & Giveaways for the week ( Oct 20 – Oct 27, 2012)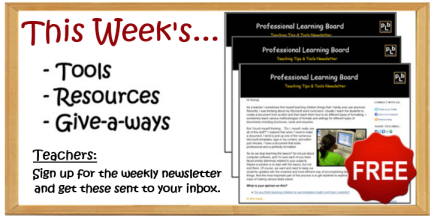 TOOLS
BubblePLY
Personalize videos by adding stickers, photos, text, animated bubbles, hyperlinks and more.
ClassBadges
An online tool to award customized badges to your students.
Transfer Big Files
A service to transfer files of size 100 MB to others.
RESOURCES
ReadWriteThink Notetaker
A hierarchical outlining tool that allows students to organize up to five levels of information for reading and writing activities.
Pocket Thesaurus
A printable that can be used to enhance vocabulary with your students.
Pop-up Books
A tutorial to help students create their own pop-up books.
GIVEAWAY OF THE WEEK
Computer Cable Organizer
Enter to win a CableBox & pack of CableDrops.
Cash Giveaway
Here is a chance to win $100 Paypal cash.
The New iPad
Fill in the form for a chance to win an the new iPad.
As always before using tools or resources be sure to conduct due diligence regarding alignment of the material and content with your local values, curriculum, and standards.