Teacher Resources, Tools & Giveaways for the week (Sept 1 – 7, 2013)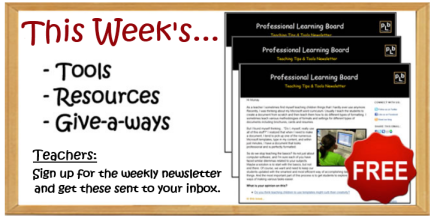 TOOLS
wridea
An idea management service and brainstorming tool.
Kids Picture Dictionary
A dictionary app for young students.
Assessing Student Interests and Strengths
Specific methods to understand and access student interest and strengths.
RESOURCES
Literary Mood Ring
An activity to help students understand the mood in any literary selection.
Microsoft Accessibility in Education Workshop
A PowerPoint presentation on the different options in windows for students with disabilities and special needs.
IXL
Online math games for students.
GIVEAWAY OF THE WEEK
Blu-Ray Combo Pack
Enter for a chance to win a Blu-Ray combo pack of the new Disney movie- Super Buddies.
Games Prize Pack
Here is a chance to win a Blue-Orange Games prize pack.
As always before using tools or resources be sure to conduct due diligence regarding alignment of the material and content with your local values, curriculum, and standards.