What are Web Tools in Education?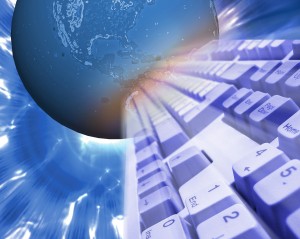 Web tools in and outside of the education are built around the concept of Web 2.0, which at its most basic translates to the ReadWrite Web. Still don't understand? Don't worry, it's a murky term and the easiest way for teachers to think about it is this: on the "old" internet (web), content was a one-way street. It was content that teachers and students able to read only. Web 2.0, or ReadWrite Web means that the transaction goes both ways.
Users of the internet are now able to make contributions to the content of the web from the comfort of their own homes with just a home computer and internet connection. And it's FREE! Anyone can put content on the web today, which means the world has been opened up to educators and their classrooms. We are able to communicate with teachers and students from across the globe with as much effort (sometimes less!) as it takes to talk to the teacher across the hall. Students are able to produce professional projects and share them with the world with virtually no special equipment.
The tools available today have great potential for you as a teacher and learner, but they may seem a bit overwhelming if you haven't spent a lot of time using the internet. That is perfectly normal and you're encouraged to contact a  Professional Learning Board online learning facilitator at any time for help. You aren't out there all on your own! This said, one of the best ways to learn these new technologies is also through exploration. Before becoming frustrated, do a little exploring and try to discover the solution (or many) on your own.
Remember, technology is here to help us – we just have to embrace its unpredictable nature! Numerous new resources and tools will be released just in the time that it takes you to read this. Welcome to a journey to digital literacy.

From Professional Learning Board's online continuing education course for teachers: Introduction to Technology for Teachers