What Influences Learning?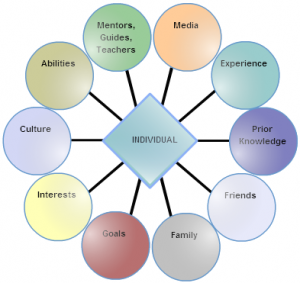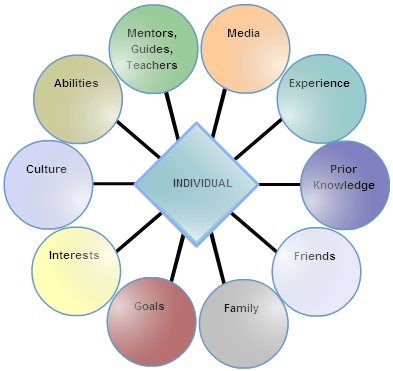 There is change in our role as teacher that's reflected in society and technical advances insisting we must prepare 21st century learners. This is critical in our roles both as teachers and learners across K-12 and all academic areas.
"What influences what we learn?" and "How are influencers determined?"
These answers are not the same for all learners. Many influencers differentiate us from one another including, but not limited to previous knowledge, goals, skills, capabilities, opportunities, and much more.
A better sense of understanding pertains to all people and is found by asking:
"How do influencers impact learning?"
Actually, they do and they don't. In brief, our perception, how we receive, interpret and organize sensory information ("stimuli") directly impacts learning.
How we Sense (eyes, ears, tongue, nose, skin etc.) >> What we Sense (Stimulus) >> Our Perception drives any Behavior
We perceive what is sensed through our sensors both outside and inside the body. The result is our perception of what we see, hear, feel, etc and behavior (response), if any, may be positive, negative or indifferent. Consider the following examples…

Positive: laughing (behavior) after hearing (sensor) a funny joke (stimulus)

Negative: making a face (behavior) after smelling (sensor) a sour odor (stimulus)

Indifference: no response (perception) after feeling (sensor) a slight change in a room's temperature (stimulus)
"Why do similar influencers result in different learning?"
This goes back to before we were born. About 60% of our dedicated genes drive our early stages of brain development. Genetics are not solely responsible for impacting our brain development. Neuroscientists have shown that the brain is also affected by environmental conditions, even prior to birth. This includes nourishment, care, surroundings and stimulation.
Furthermore, our brains are not completely developed at birth although we do have most of our brain cells. It is the connections between these cells that continue building our 'network wiring.'
New neural connections are made every time our senses record any incoming messages (stimuli).
From Professional Learning Board's online continuing education course for teachers: Accommodating All Learners