About the Brain
Average Ratings
Five Stars
Not Rated

The About the Brain course is a combination of two self-study courses. Successful completion of this double-length course results in the issuance of ONE certificate of completion for 10 clock hours.
Cognitive Skills – Understanding Learning Challenges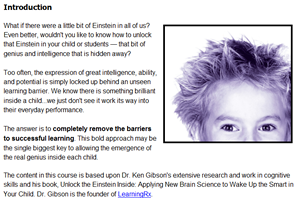 The U.S. Department of Education, and others indicate that weak cognitive skills are the source of over 80% of learning problems.
In this course you'll come to understand the answer: students approach each task with varying learning tools. These tools are called cognitive skills, and these skills determine the quality, speed, and ease with which individuals learn and perform.
This course provides methods for detecting students with weak cognitive skills and tools to strengthen those skills. Teachers will receive understanding, as well as ways to apply development techniques in the classroom. The online class is fun and interactive and includes information about new brain research and how it can impact today's classrooms.
Introduction to Autism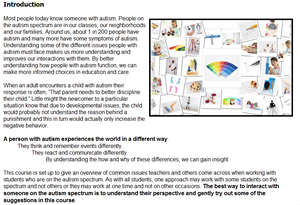 Most people today know someone with autism. People on the autism spectrum are in our classes, our neighborhoods and our families. Whether you know a little or a lot about autism, this course will give you useful information about the autism spectrum.
Although everyone on the autism spectrum is an individual, this course outlines a constellation of developmental differences common in autism that lead to the key concerns of social and communication issues.
A person with autism experiences the world in a different way. They think and remember events differently. They react and communicate differently. By understanding the how and why of these differences, you can become one who gains insight.
Understanding some of the different issues people with autism must face can help us to be more understanding and improve our interactions. By understanding how students with autism function, we can make more informed choices in education and care and, maybe most importantly, we can assess our own automatic hard-wired responses that might occur when someone is truly different.
By understanding the underlying components of developmental differences in those on the spectrum, teachers, parents and others can reframe their own preconceived expectations and help support the learning and behavior for those with autism. Learn to more clearly understand the world from the perspective of someone with autism.
Click on the button below to register in this course.

10
clock hours
$78