Bullying: The Golden Rule Solution
Average Ratings
Five Stars
"I have utilized this philosophical approach to bullying repeatedly over the past two years and I have always found it to be highly effective in even the most verbally abusive school environments."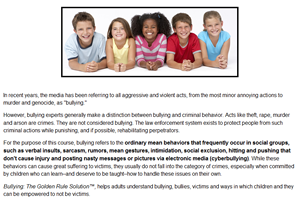 During childhood, children learn and practice the skills they will need in their adult lives. Bullying is an unpleasant but inevitable part of life that happens in virtually every social group. If children don't learn how to deal with hostility in their formative years, how will they manage when they grow up and have to face hostility from their co-workers, bosses, spouses and children?
This course enables  teachers to help students respond effectively to verbal comments. Includes video role plays that model and demonstrate methodologies.
Click on the button below to register in this course.
5


clock hours

15


clock hours
$39
$150
Want to learn more about protecting children?
Enroll in the Child Abuse Prevention Package for Educators and SAVE $24.