Collaboration in the Classroom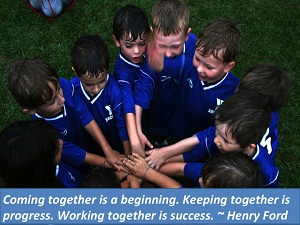 Collaboration is the process of working together to create or achieve something. In the traditional classroom setting, students sit at individual desks and work in isolation. Then, collaboration in the classroom was considered "cheating." However, now, this is changing. Most schools, jobs and work outside of school requires people to work with others to achieve goals.
The National Educational Technology Standards (NETS) outlines the following student goals for collaboration:
Interact, collaborate, and publish with peers, experts, or others employing a variety of digital environments and media.
Develop cultural understanding and global awareness by engaging with learners of other cultures.
Contribute to project teams to produce original works or solve problems.
It can be difficult to develop an environment of collaboration in the classroom and may even be more challenging to collaborate with people outside of the classroom. Teachers can help prepare students in working well with others.
How do you encourage your students to collaborate with each other in the classroom?
From Professional Learning Board's online continuing education course for teachers: Technology in the 21st Century Classroom