PACKAGE: The Everything Package (180 Hours)
Average Ratings
Five Stars
Not Rated





"Your courses fit my needs perfectly.
They were ideal for someone who does not
have a great deal of flexibility, and I learned a lot."
You've heard of the everything bagel, Professional Learning Board presents the everything PD course package, The Everything Self-Study Package, which includes the following EIGHTEEN self-study courses adding up to 180 hours of professional development. Scroll down to see more information on the courses in this package.
| The Everything Package (180 hours) | # Hours |
| --- | --- |
| Student Safety and the Technology-Rich Classroom | 10 |
| Research Based Curriculum and Instruction | 10 |
| School Mental Health | 10 |
| Technology in Learning | 10 |
| Learning Strategies for the 21st Century | 10 |
| Integrated Classrooms | 10 |
| iPads in the Classroom | 10 |
| Supporting Special Needs in the Classroom | 10 |
| Talk & Walk: A Course on Ethics and Communication | 10 |
| Enhancing the Classroom Learning Environment | 10 |
| Integrated Curriculum | 10 |
| Reading Across the Curriculum | 10 |
| Teaching with Internet Technology | 10 |
| Differentiated Instruction | 10 |
| Standards in Teaching | 10 |
| About the Brain | 10 |
| Cognitive Skills – Understanding Learning Challenges | 10 |
| Teaching English Language Learners | 10 |
| TOTAL | 180 |
See inside this package…
Student Safety and the Technology-Rich Classroom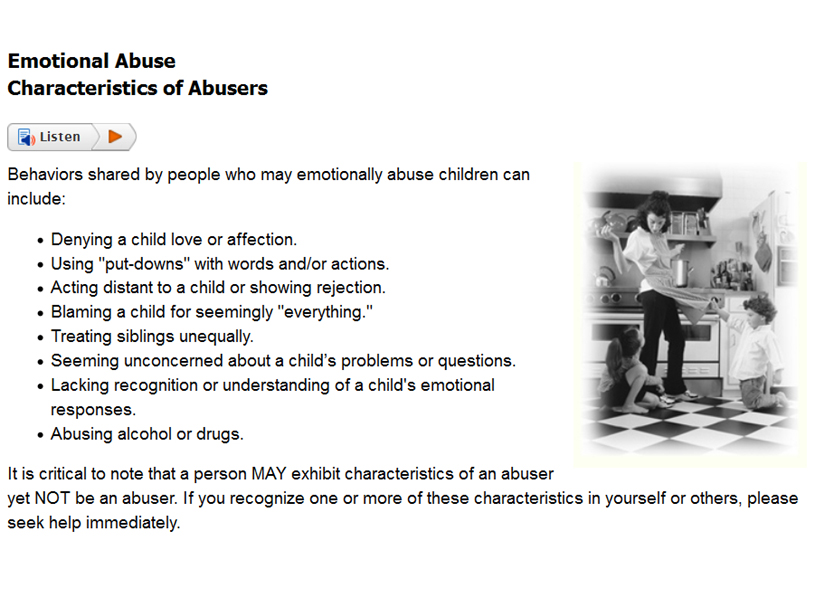 Acknowledging the widespread threats to children's safety in today's world, this dual online PD course package equips teachers with a rich bank of information as well as practical strategies to promote students' safety, both in the real and virtual world. In the first section, participants discover the threats that exist on the Internet and how to protect loved ones, family members, students and others under their care or responsibility. This section includes information on cyberbullying, online predators, and tips and tools for protecting children online.
The second part empowers teachers to recognize types, signs, characteristics, scenarios, and in general, indicators of suspected child abuse. We know this is a difficult subject to discuss, and this section has been designed to be respectful of the topic while giving teachers a solid foundation in understanding the key information about child abuse, the common types, Safe Environment Practices, and useful resources to combat such threats.
Research Based Curriculum and Instruction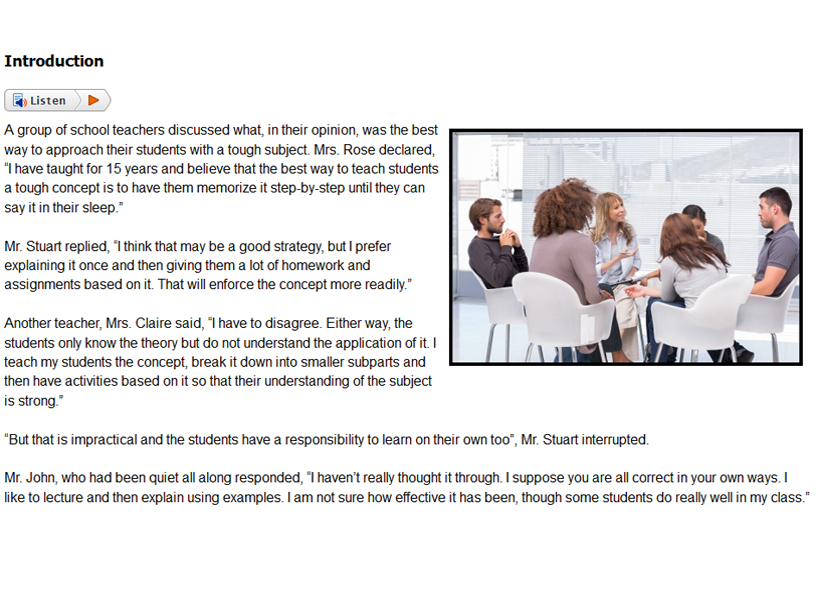 The traditional curriculum is ill-equipped to keep up with the educational needs and challenges in today's dynamic world, highlighting the need to effectively redesign the curriculum. To help students improve in academic achievement, develop an attitude of learning and acquire the skills needed for the demands of the workplace and real life situations, teachers must continually review, reflect on and work to improve their instructional skills. This two-part online PD course package highlights the fact that each educator has the responsibility and potential to contribute, even in small ways, to transforming the curriculum. Teachers are provided with research based approaches and strategies that can be incorporated into classrooms to improve the effectiveness of teacher led instruction and encourage active student involvement in learning. The resources, examples and templates included, guide the teachers to plan, develop, integrate and evaluate curriculum more effectively. This information will empower teachers to implement novel ideas in curriculum development within their classrooms, that will help students to face the challenges of the dynamic world around them with greater confidence. Teachers are empowered to examine their own views about teaching and learning, gaining a research based perspective on commonly believed myths in the educational field. The course is designed to promote effective curriculums that enable students to become successful learners and effective contributors.
School Mental Health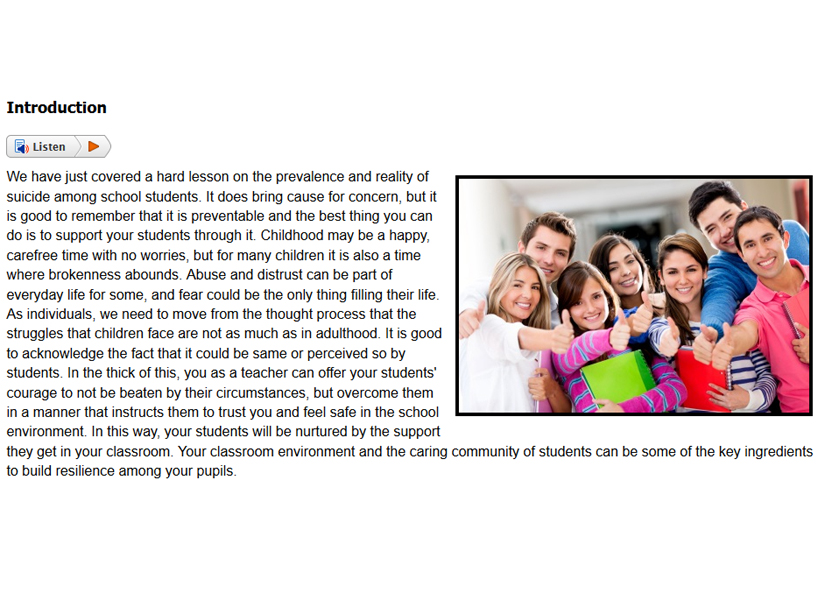 Through this 2-part online PD course, teachers are shown practical strategies by which they can deal with the issues associated with bullying and suicide. Though extremely unpleasant realities, both have become serious threats to students, and teachers are often ill-equipped to deal with such issues. This course promotes a positive, pro-active approach to ensure that teachers and students feel competent in facing such threats, and know how to rise above them.
The first section helps teachers understand suicide and how it can be prevented. Teachers will, learn to identify early signs of suicide ideations and be equipped with basic tools to help students. A range of creative activities and strategies are presented to promote safe classroom environments. The second section deals with bullying – an unpleasant but inevitable part of life that happens in virtually every social group. Teachers are shown how they can teach children to deal with hostility in their formative years and respond effectively to verbal comments. Video role plays are included to model and demonstrate the recommended methodologies.
Technology in Learning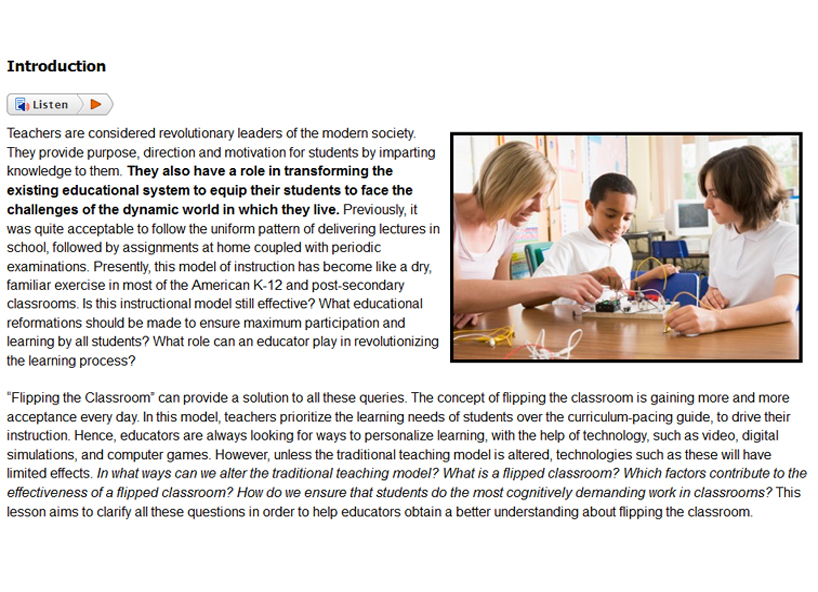 Through this online PD course, discover creative strategies to tap into the permeation of technology into our daily lives, thus helping students master reading levels and take responsibility for their own knowledge acquisition. The first section teaches research-based and classroom proven reading techniques that are fully supported by technology. These tech-based strategies can be used across all content areas and grade levels to improve student engagement and mastery of reading. Teachers are equipped with novel ways to use technology to motivate students to read more, through a large number of tools, exercises and additional resources practice skills learned in the lessons.
The second section presents the flipped classroom approach which prioritizes students' needs beyond traditional teaching styles, while challenging teachers to employ innovative instructional methods. Students are encouraged to take ownership by watching lesson videos on their own time and coming to class equipped to build upon their understanding of the concepts presented. The resources, examples and templates presented in this course help teachers to plan and create efficient classrooms supported, not hindered, by technology.
Learning Strategies for the 21st century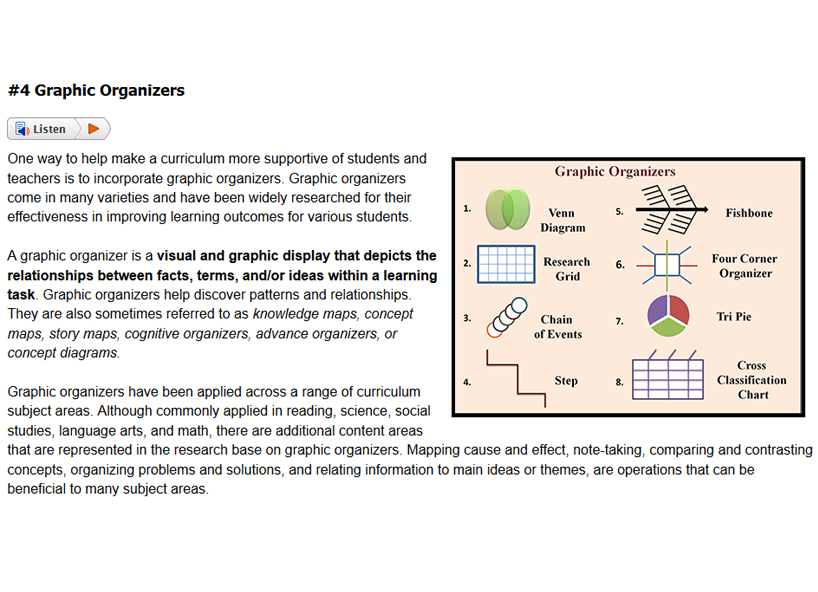 Teaching successfully in the 21st century, requires a close look at what it means to teach and learn in increasingly networked, technology-rich, digital classrooms. Schools and teachers need to thoughtfully and intentionally design learning environments and tasks in which teachers explore issues that are relevant, while developing pedagogies that are effective for the current knowledge era. To equip teachers in this scenario, the first section of this dual online course package, offers a framework to plan lessons that promote Inquiry-based Learning (IBL). Through multiple classroom examples, teachers are shown what roles they play and how they can encourage student initiative, while ensuring that the focus remains on productive learning. In the second section, teachers are shown how they can implement collaborative learning in classrooms and thus develop successful learners. This framework enables teachers to recognize characteristics of collaborative classrooms, be aware of student and teacher roles, and practice group activities as an essential part of classroom learning. Teachers are also introduced to school-wide policy reforms in place today that promote collaboration and investigative activities, along with strategies to accommodate learners, including students with special needs. The practical examples, real-life experiences, and templates in this online PD course provide teachers with successful structures to adapt and use in their own classrooms.
Integrated Classrooms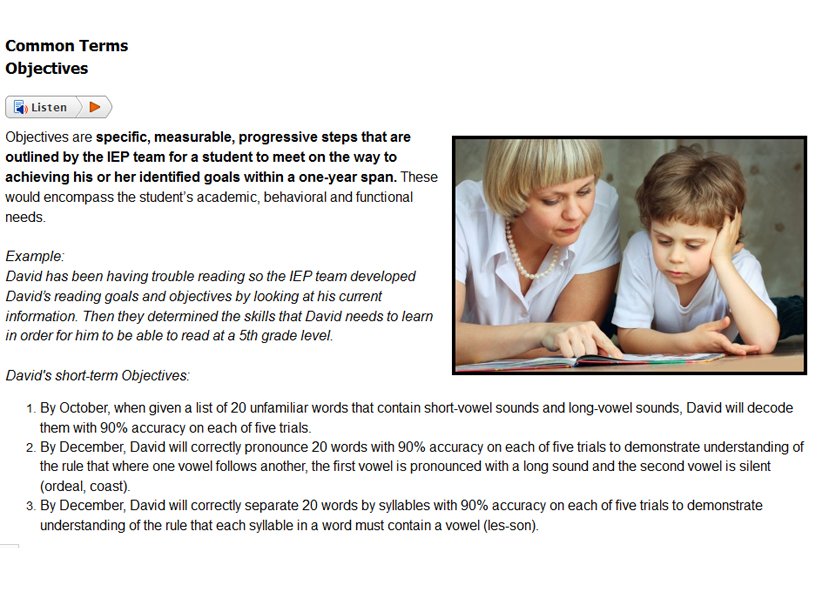 Teaching each student in a classroom effectively is never easy. It is next to impossible to find a classroom full of students with the same needs, learning levels and abilities. Teachers are thus faced with the daily challenge of teaching a diverse group the same lesson and ensuring that they all learn in the process.
In the first part of this course, teachers are equipped to provide children who have an Individualized Education Program (IEP) with an appropriate education in the least restrictive environment. It is designed to educate the educators on the various regulations and requirements while helping develop a team that works together to improve educational results for children with special needs. Teachers will examine various supports and services a student with special needs may receive for instruction and testing. Carrying this forward, the UDL framework presented in the second part, builds on research findings that show how a single teaching approach has very limited results in student learning, highlighting the need for a new curricular approach. Here a learner's level of recognition, strategic, and affective networks are all taken into account to determine the best way to teach them. This dual online PD course is centered around exploring practical strategies that can be used to add a much needed element of flexibility in teaching presentation, student expression and meaningful engagement and upholding learning as the primary focus.
iPads in the Classroom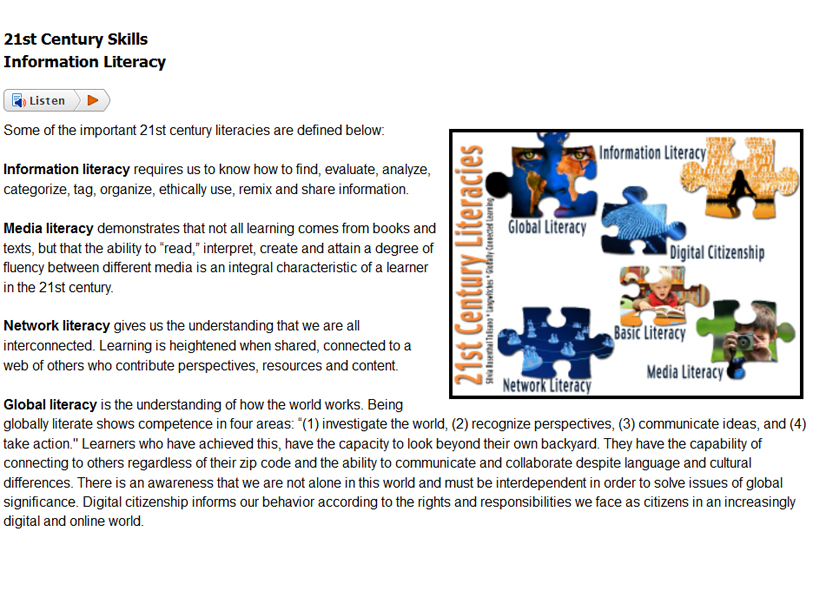 Integrate theories of Transformative Learning with technology to find the best apps to educate YOUR students. The integration of iPads and apps into education, may seem like a natural product of the times. However, successfully impacting students' learning, requires a whole new level of teachers' engagement and effort. Through this two-part online PD course, teachers will be equipped to go beyond using iPads and apps merely because someone else has recommended it and fully examine the true learning potential.
To this end, the first part of this online PD course has been specially designed for teachers who are just beginning to use iPads or those who are considering using them. Rather than a focus on learning to operate an iPad, this course will help teachers gain knowledge about different ways by which the iPad can be integrated into the process of learning. In addition to practical learning activities and ideas, it helps the teacher prepare the classroom environment and schedule for the introduction of iPads. It helps teachers to plan and organize iPad use, so that it is efficient and smooth.
Acknowledging the spread of other smartphones and tablets, the second part focuses on apps at a more general level, on platforms including iOS, Android and Windows. This course shows teachers how to take into account specifics, including logistics, management ability, content access, sound and image quality, all while evaluating individual apps. With an integrated approach, teachers can successfully consider an apps' connections with curriculum content and the ability to amplify existing learning levels, while evaluating systematically their transformative learning capability.
Supporting Special Needs in the Classroom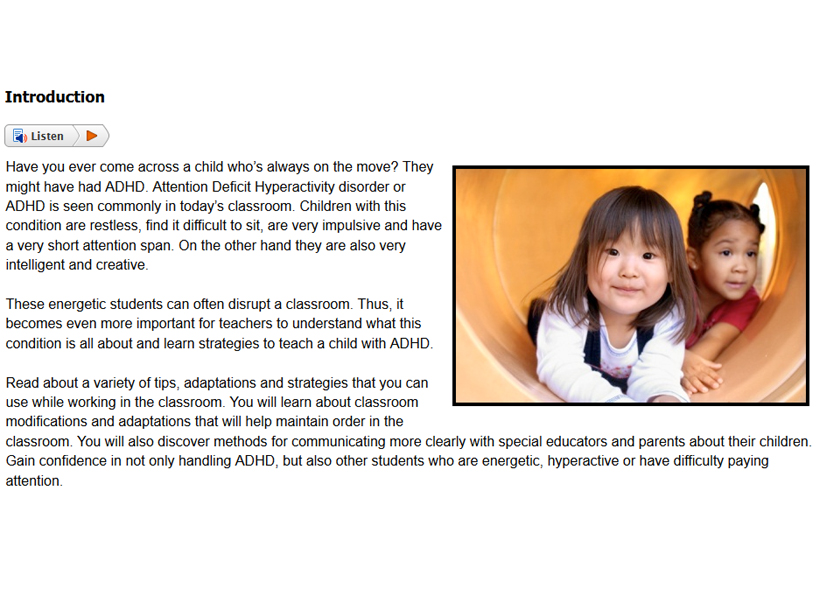 Through this dual online PD course, explore classroom modifications and adaptations to maintain order, discover methods for communicating more clearly with special educators and parents about their children, and gain confidence in successfully teaching students who are energetic, hyperactive or have difficulty paying attention.
As educators and parents, we are often, by default, among the first people to notice that a child may be experiencing problems. To equip teachers for such scenarios, the first section, presents a basic understanding of warning signs of early-onset mental illness in children and adolescents which is useful to professional teaching and learning as it strengthens teacher-parent communications. Topics covered in this course include an overview of mental illness, parent and teacher responsibilities, as well as a range of specific disorders like Oppositional Defiant Disorder, Conduct Disorder, Depression, Bipolar Disorder, Anxiety and Schizophrenia. The information in this section provides an understanding of each disorder as well as key warning signs for early-onset mental illness in children and adolescents.
The second section, the focus is on Attention Deficit Hyperactivity disorder or ADHD which is seen commonly in today's classroom. Children with this condition are restless, find it difficult to sit, are very impulsive and have a very short attention span. On the other hand, they are also very intelligent and creative. These energetic students can often disrupt a classroom, if misunderstood. Thus, it becomes crucial for teachers to understand what this condition is and learn strategies to teach a child with ADHD. This section provides teachers with a variety of tips, adaptations and strategies to use while working in the classroom.
Talk and Walk: A Course on Ethics and Communication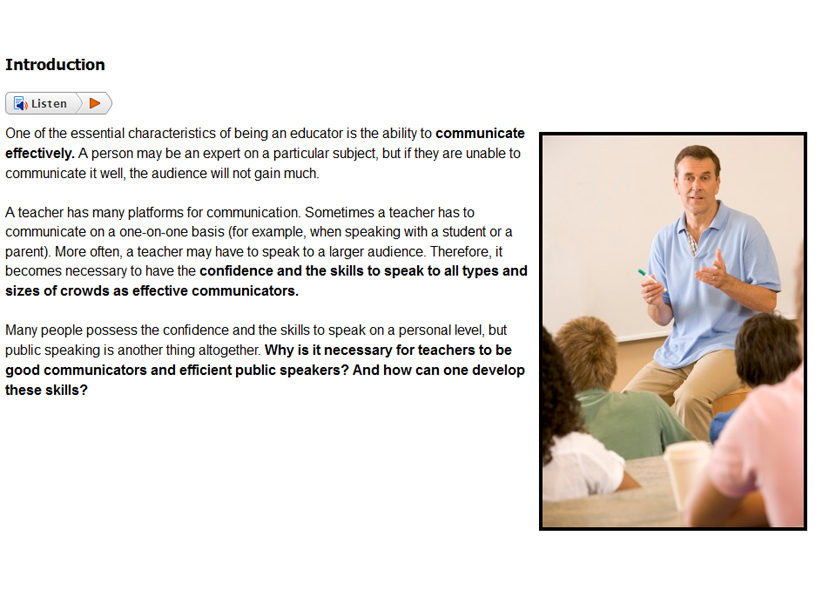 For teachers to be truly successful in their educational responsibilities, they must be aware of the powerful impact their words and actions have on their students and others around them. They must thus step outside the classroom and curriculum to develop these essential skills, that will in turn impact each facet of their teaching practice. This dual online PD course focuses on two of teachers' biggest concerns today – Ethics and Public Speaking – both skills that are integral to effective teaching.
The first section is built on the fact that even though people believe that their actions are guided by logic and reason, we all have an innate ethical sense that urges us to make predictable choices. This section, thus helps teachers to recognize the real power of their own innate ethical sense and how it influences their teaching practice. The information and practical tools provided here are focused on enabling teachers to broaden their understanding of ethical issues while at the same time enabling them to better understand the ideas of others.
Through reflection and introspection, teachers develop an understanding of their innate ethical selves and are given a range of tips to bring high standards of ethics in schools at every stage of their educational practice.
Acknowledging that a competent and resourceful teacher must be able to effectively communicate with students, the school community, peers, parents and even school support structures, the second part focuses on enabling teachers to develop much needed Public Speaking skills. Through the research and strategies in this course, teachers examine how to manage these fears and perfect related skills. Teachers are shown how they can identify and work on specific problem areas and consequently improve their communication skills, both verbal and non-verbal, as well as their technical skills. The resources included show teachers how to structure their speeches and harness technology to deliver effective speeches.
Enhancing the Classroom Learning Environment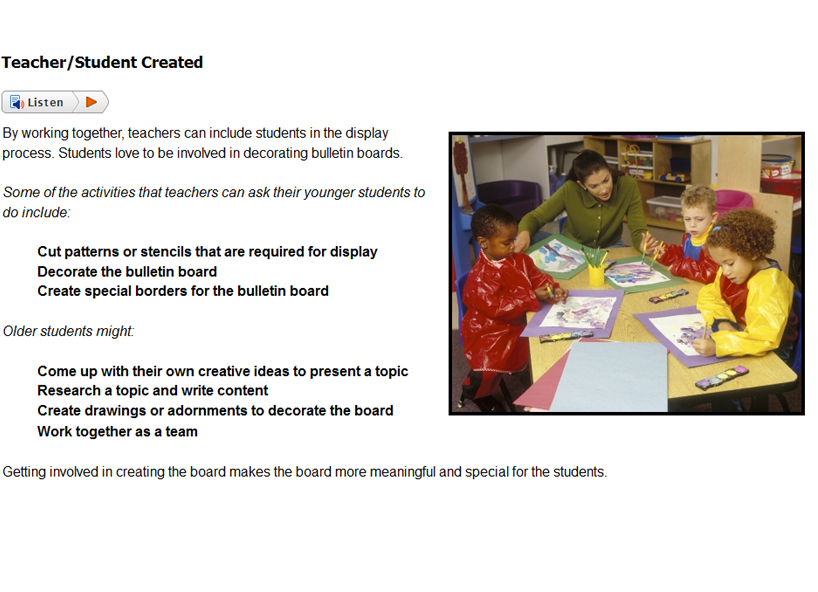 Explore successful ways to create a supportive and engaging learning environment that will greatly enhance student achievement. This two part online PD course package provides a new and fresh direction that teachers can use to create an active, engaging, and inviting environment that promotes student learning. A classroom can seem incomplete without attractive and educative bulletin boards. Have you ever looked at another teacher's bulletin boards and wondered how they managed to make it so interesting? Maybe you don't have a lot of experience with art, or maybe you're running low on creative ideas.The first section of this course provides a new and fresh direction that helps teachers understand the basic principles of art and design and how to apply these in planning and creating bulletin boards. Included are a number of ideas for interesting, interactive and educative bulletin boards. Through this part, teachers come up with some very creative and visually effective ideas for their classrooms and often are inspired to create their own classroom bulletin board makeovers.
The second section focuses on equipping teachers to partner with the parents of their students. In this course, teachers will learn about various personalities and come away with an understanding of why parents think the way that they do. They will also discover strategies to use in a number of common challenging situations teachers face while working with parents, including planning and organizing activities. This section will help enhance teachers' professional interaction and communication skills as well as help build lasting relationships with students' parents.
Integrated Curriculum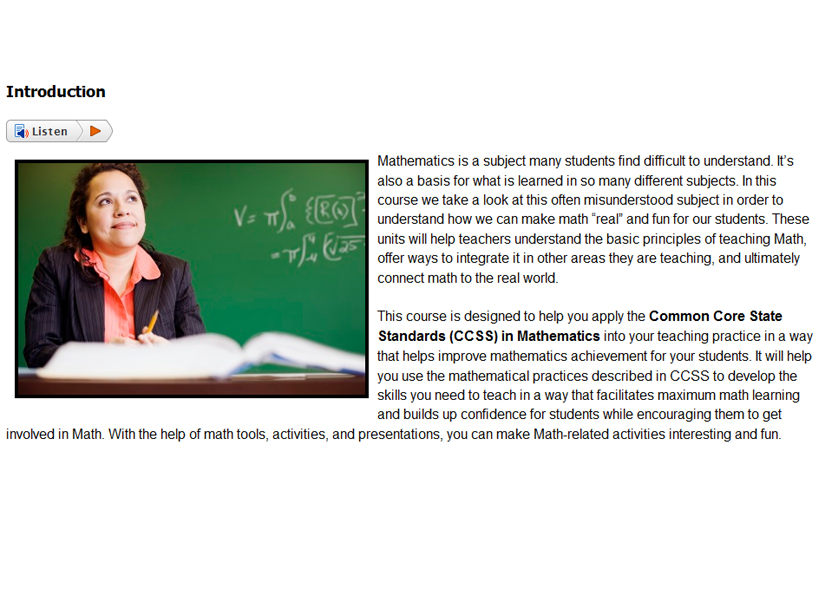 In the simplest sense, an integrated curriculum is about making connections across disciplines, and then connects the disciplines to real life. This two part online PD integrated course will equip educators who are concerned with improving student achievement to create relevant, rigorous, and engaging curriculums for their classrooms.
In the first section, teachers are shown that optimal STEM integration doesn't need a huge budget, lots of technology, or a ready-to-use curriculum. It's something any teacher, any school and any classroom can do well. We understand that no one knows your students better than you. Therefore, this course is designed to equip and encourage you to integrate STEM education into your classrooms in ways that are most suitable for your students. You will learn how to plan your classroom set-up keeping in mind the needs of your students. You will also become confident to design your own STEM curriculum, while integrating the standards, including the Common Core Standards. STEM education is not just about doing what's "cool" and "in." It is essential in today's world that our students learn to apply what they learn in real life situations and across different subjects. The STEM model helps prepare our students for the 21st century.
The second section focuses on Math – a subject that is very connected with every other subject taught in the classroom. This section is designed to help any teacher gain confidence in areas related to mathematics and the common core. Common Core Mathematics for All Teachers helps teachers understand math practices and application of math through the Common Core State Standards (CCSS). It helps teachers understand ways in which these practices can be incorporated into any classroom, explains the different ways a teacher can enhance student learning, and encourages teachers to set up their classroom in a way that increases student involvement and makes math real and fun for everyone. Mathematics education is changing today and is no more just about solving questions on paper. This section will help thus equip Math, Science, Language Arts and Social Studies teachers to gain confidence in integrating math effectively in their teaching practice.
Reading Across the Curriculum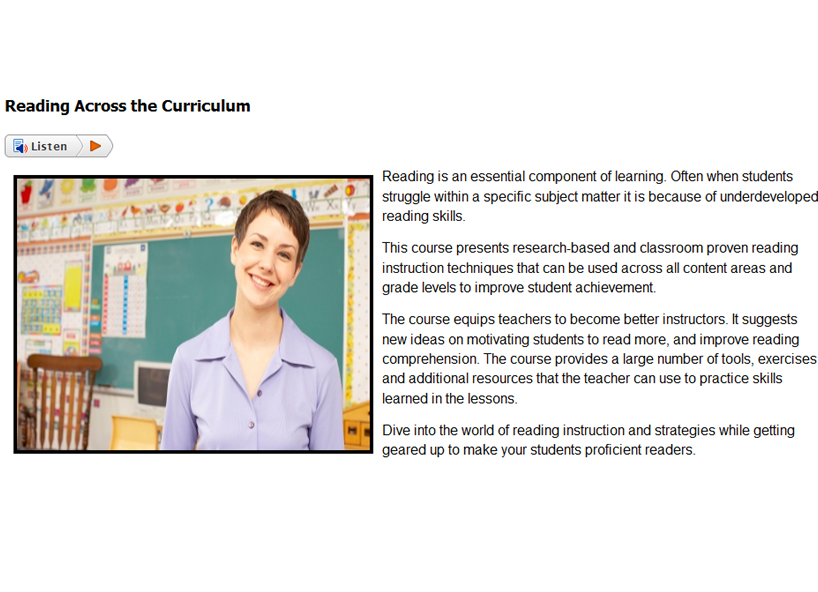 This dual course is aimed at facilitating reading among students. This course consists of two related subtopics, reading across the curriculum and tackling tough text.
SECTION A: Reading Across the Curriculum, focuses on equipping teachers to be better instructors. Given the fact that the reading range in any given classroom varies extensively, all educators should be aware of best practices in reading instruction. This section suggests new ideas to help motivate students to read more and equips teachers with a variety of strategies that they can use to support reading comprehension.
SECTION B: Tackling Tough Text, highlights the importance of change from traditional reading strategies to new and innovative ways of improving reading comprehension. This section suggests a new strategy to tackle difficult text, thus enabling students to learn effectively and comprehend well, across all subject areas. This is a great tool for any teacher who wants to help students build a stronger understanding of the text that they come across in the classroom.
Teaching with Internet Technology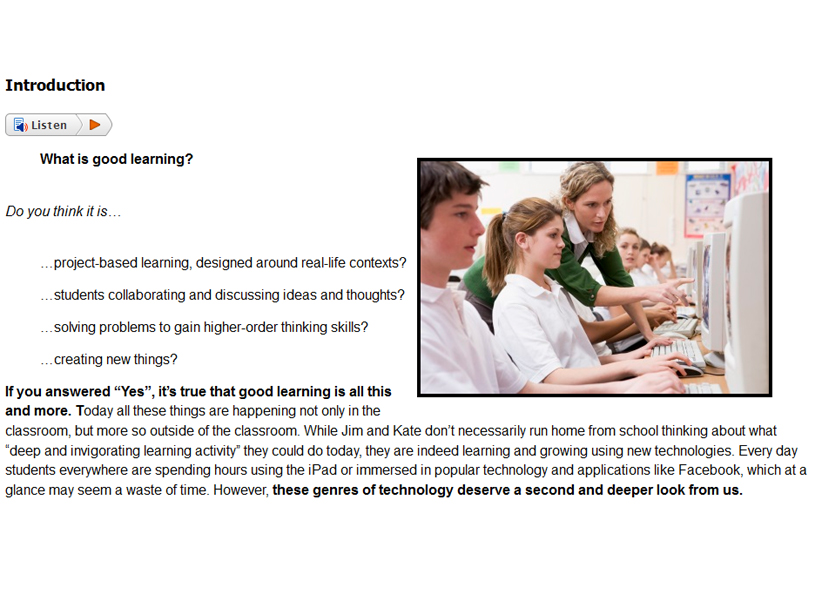 Technology has become an integral part of our life and learning patterns in the 21st century. Using technology like this in the classroom requires a high level of comfort with the tech tools as well as an understanding of the role of technology in the learning process, and the principles behind integrating it in a way that optimizes learning. Learn to integrate technology effectively to increase engagement and student achievement, through this dual online PD course package, where teachers are introduced to technology tools to increase their comfort levels in using the Internet and today's technology tools for teaching and learning.
In the first part, 'Introduction to Technology for Teachers', teachers will learn new ways of using tools they are familiar with and be exposed to brand-new tools and applications for use both in professional development and with students in the classroom. They will be exposed to a range of topics including basic computer terminology, office applications, web tools, and so on. The second part 'Technology in the 21st Century Classroom', teaches concepts and ideas behind using technology successfully in the classroom. It helps teachers to understand the various skills that students need to develop in order to use technology in the most effective way. This dual package, thus equips teachers to help students use technology intelligently and responsibly.
Differentiated Instruction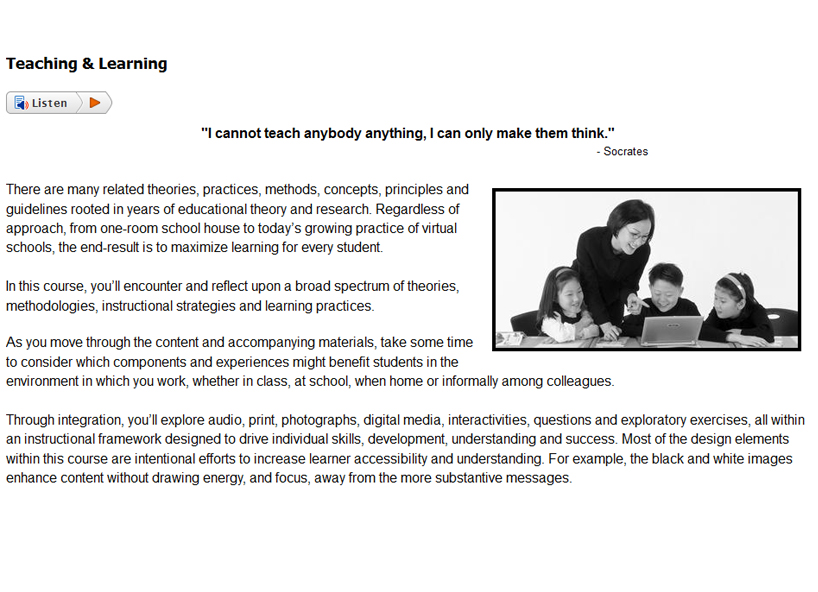 Welcome to this dual course on Differentiated Instruction. This course covers two related sub topics- Accommodating all Learners and Gifted Learners in the Classroom. In the first part of this dual course, you will learn about the various types of learners and how you can adapt your teaching to accommodate every learner. Examine 21st century student and educator strengths in this research-based course packed with strategies, resources and tools. In the section on Gifted Learners, you will learn in detail about this particular group of learners and how you can support their learning needs. Through this course you can make greater sense of gifted and talented education by learning about identification, instruction and assessment of these students while exploring related topics, issues and resources geared towards our gifted population.
By the end of this course, you will have a greater understanding of the various learning styles and will be equipped with ideas and strategies to reach and support every student.
Standards in Teaching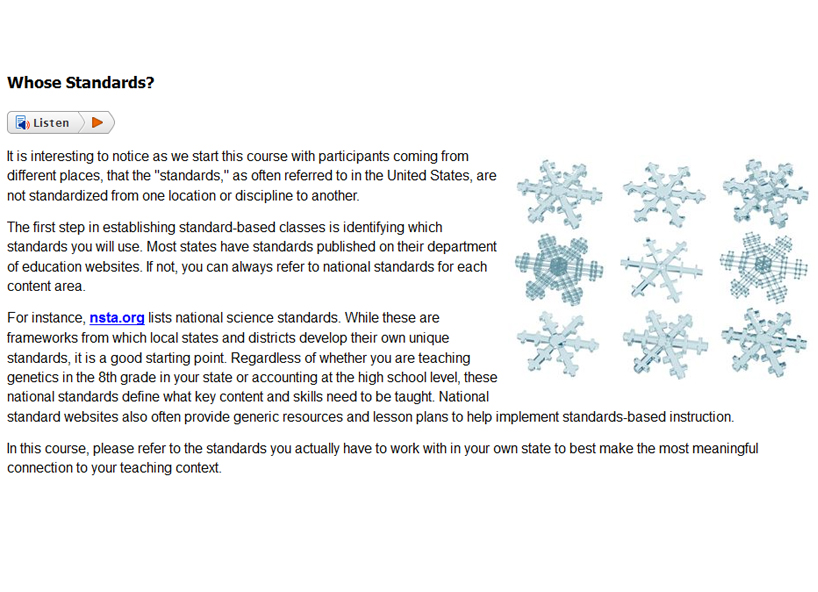 Welcome to this dual course on Standards in Education. This course covers two related sub topics- Integrating Standards and Formative Assessment. The first part of this course will help you understand more about standards and how you can integrate them in your classroom. The second part of this course will focus on standards based Formative Assessment, and how you can use this in your classroom. Formative assessments allow teachers to respond to the needs of the student quickly, however more importantly it allows the student to shape instruction (both a student-centered and teacher-driven education model).
This course will help you provide standards based education in your classroom. It will equip you with ideas, strategies and information that will help you implement the latest educational standards in your classroom.
About the Brain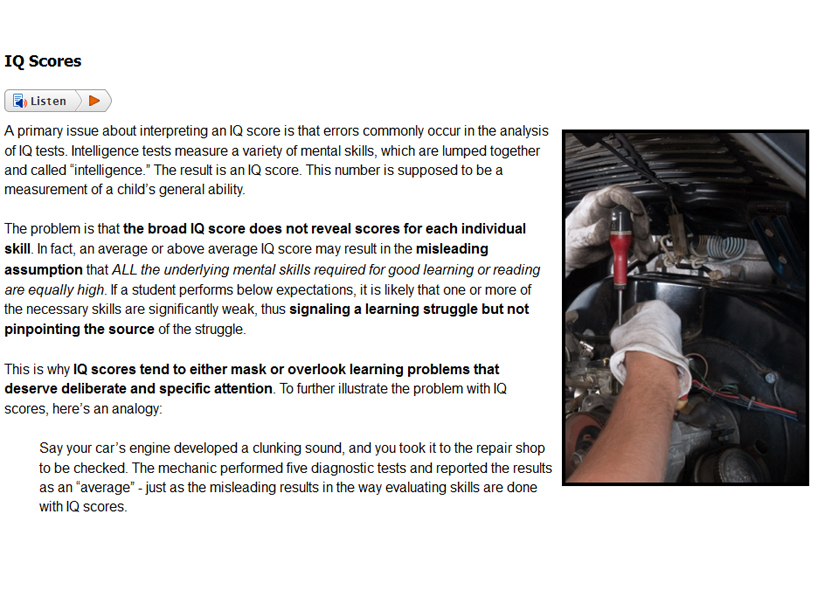 Welcome to this dual course aimed to help you understand more about the human brain. This course covers two related sub topics- Cognitive Skills and Introduction to Autism.
In the first topic you will discover many secrets about the brain and learning. Learn about proven strategies that can be used to improve learning and memory in students. Get equipped with ideas to help and support students who struggle with reading, writing or low grades.
In the section on Autism, you will see how changes in the brain, cause various symptoms in Autism. The course will help you understand children with Autism, and how you can support them in an integrated classroom. Read tips and tricks that you can use to help a child with Autism learn and communicate.
On the whole, this course will help you understand and apply various learning and teaching strategies, and enable you to enrich the learning experience in your classroom.
Cognitive Skills – Understanding Learning Challenges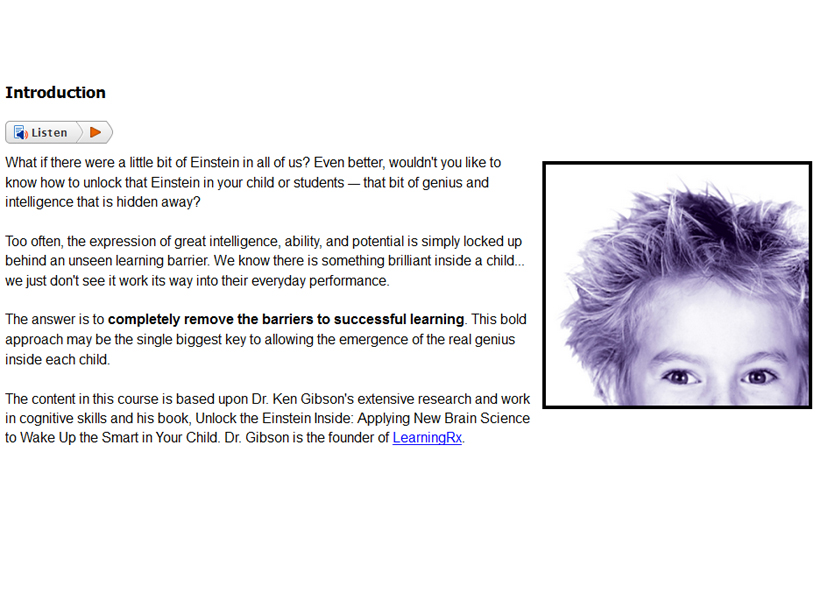 The U.S. Department of Education, and others indicate that weak cognitive skills are the source of over 80% of learning problems.
In this course you'll come to understand the answer: students approach each task with varying learning tools. These tools are called cognitive skills, and these skills determine the quality, speed, and ease with which individuals learn and perform.
This course provides methods for detecting students with weak cognitive skills and tools to strengthen those skills. Teachers will receive understanding, as well as ways to apply development techniques in the classroom. The online class is fun and interactive and includes information about new brain research and how it can impact today's classrooms.
Teaching English Language Learners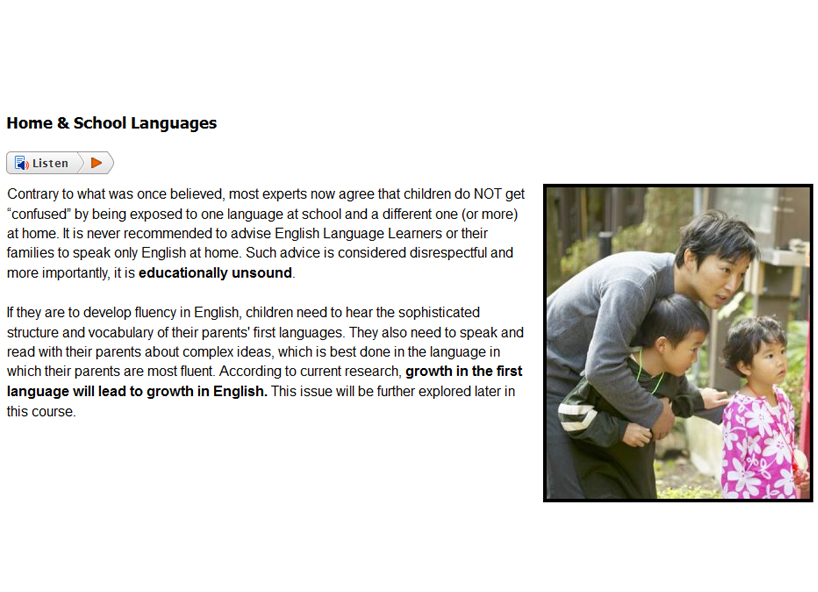 Any K-12 teacher, administrator, or support staff member who would like to help English Language Learners do well in school will find this course to be both informative and useful. The focus includes how to make ELLs and their families feel more welcome while generating academic successes through empowerment.
Participants will improve cross-cultural skills and examine cultural influences on school practices, and come away with greater insight into how second languages are acquired. They will also discover teaching methods and educational strategies for today's diverse mainstream classroom that are considered best practice for reaching and teaching all learners. Included are highlighted practical tips and activities that can be put to use right away.