PACKAGE: The Everything Package (50 Hours)
Average Ratings
Five Stars








"Your courses fit my needs perfectly.
They were ideal for someone who does not
have a great deal of flexibility, and I learned a lot."
You've heard of the everything bagel, Professional Learning Board presents the everything PD course package, The Everything Self-Study Package, which includes the following TEN self-study courses adding up to 50 hours of professional development. Scroll down to see more information on the courses in this package.
| Relicensure (50 hours) | # Hours |
| --- | --- |
| Classroom Collaboration | 5 |
| Classroom Management for Positive Behaviors | 5 |
| Cognitive Skills – Understanding Learning Challenges | 5 |
| English Language Learners in the Classroom | 5 |
| Ethics for Education Professionals | 5 |
| Formative Assessment | 5 |
| Internet Safety in a Connected World | 5 |
| Research-based Instructional Strategies | 5 |
| Transformative Classroom Management | 5 |
| Virtual Field Trips | 5 |
| TOTAL | 50 |
See inside this package…
Accommodating All Learners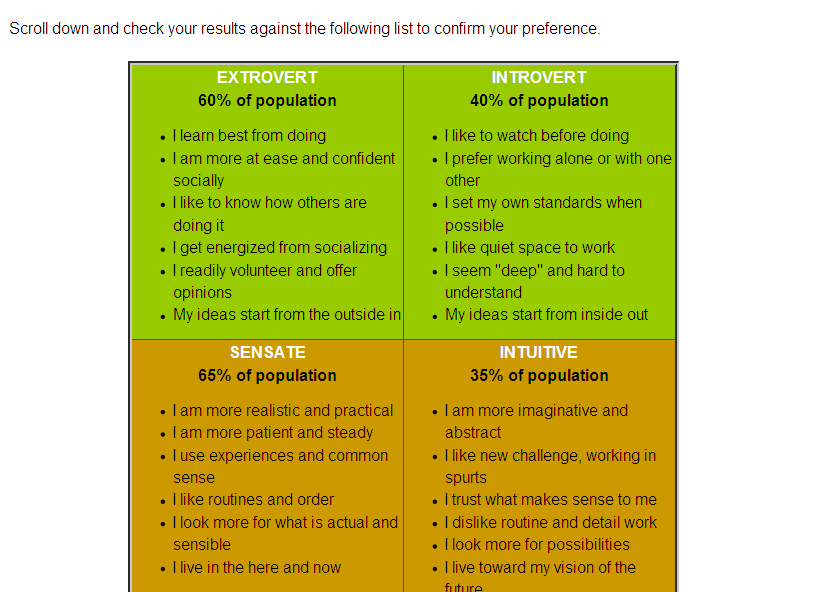 Reach and teach all learners by examining 21st century student and educator strengths in this research-based course packed with strategies, resources and tools. Participants will gain insight into both, their own learning and teaching preferences as well as the learning styles of students. Closely aligned with national standards and pedagogical goals.
Every Learner Learning
Who's Who: Teaching & Learning
Who RR Students?
Teaching Across Type
Technology
Theories & Strategies
Ethics for Education Professionals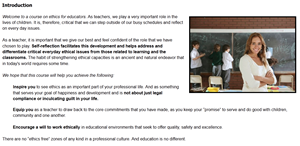 With the advent of the internet and smart phones, it's easy for boundaries to become blurred. In the past it was rare for a student to call a teacher at home. Today, students and teachers are faced with numerous ways to contact one another 24/7. Things that in the past may have been black and white are now grey. Where do we draw the lines?
Even though most people believe that their actions are guided by logic and reason, we all have an innate ethical sense that urges us to make predictable choices. We each find words to create rationales that support our choices or decisions. However, ethics education is about recognizing the real power of our own innate ethical sense and how it influences our behaviors.
We build our ethical sense on beliefs that we already bring with us. This is why ethics is about individual's personal choices. When we recognize and intuitively understand that ethics must be measured on a case-by-case basis, this type of ethical relationship can become a powerfully positive starting point for both educators and students. We must commit to broadening our understanding of ethical issues while at the same time seek to better understand the ideas of others.
Step inside this course and discover through reflection and introspection, an understanding of one's innate ethical self. You'll find tools and tips for bringing high standards of ethics into our schools and a variety of topics to explore practical ways to address ethical decisions in our lives at every stage.
Internet Safety: Protecting Children in an Online World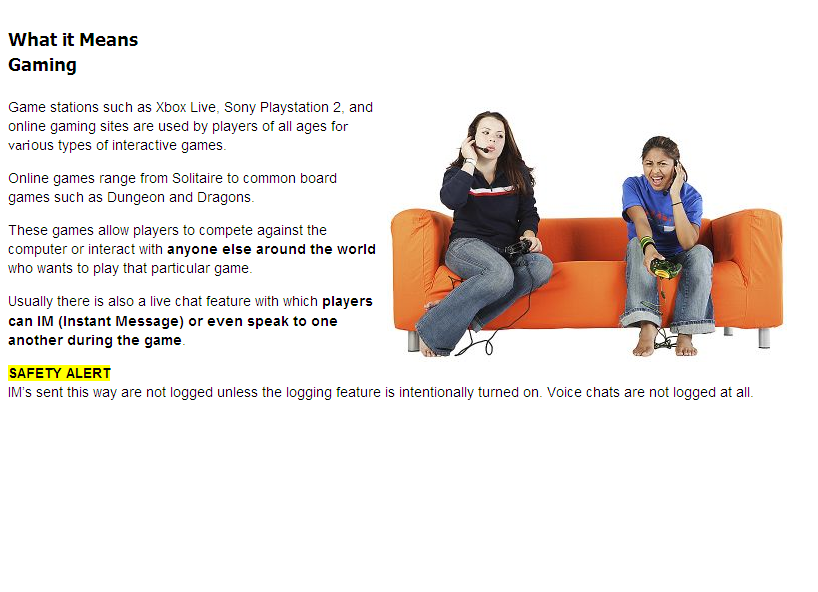 Issues that the youth of today, parents, teachers and those who are part of their world face online is the essence of this content. Participants discover areas of the Internet used by youth, what kinds of threats exist on the Internet and how everyone can protect their loved ones, family members, students and those under their care or responsibility. A special focus of the course includes ways in which adults can protect themselves online.
Social networks
Instant messaging & texting
Chat rooms
Gaming & virtual worlds
Vulnerabilities of Children Online
Cyberbullying
Online predators
Tips & tools for protecting children online
And more…
Introduction to Technology for Teachers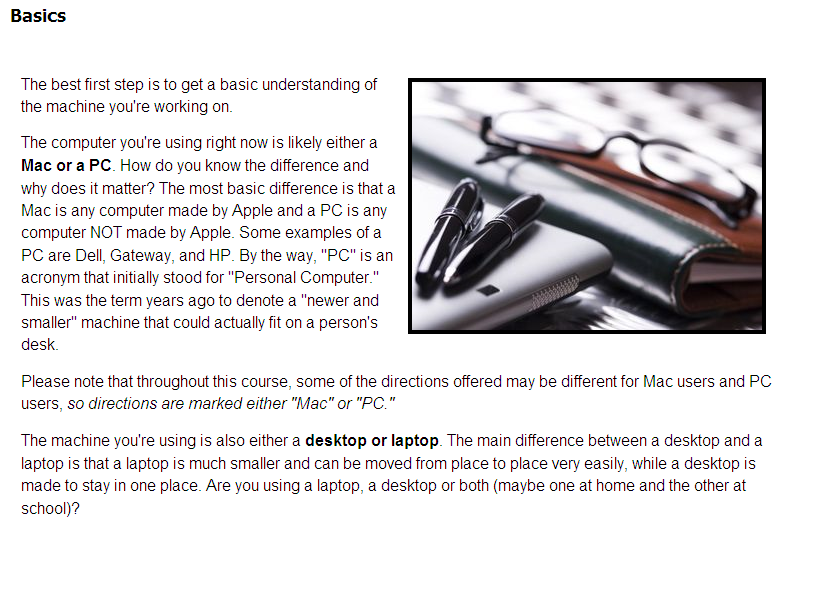 This interactive course introduces teachers to technology tools with one goal in mind: increasing teacher comfort level in using the Internet and today's technology tools for teaching and learning. Teachers will learn new ways of using tools they are familiar with and be exposed to brand-new tools and applications for use both in professional development and with students in the classroom. Topics covered in this course:
Basic computer terminology
Office applications
Email
Web tools
Integrating technology in classroom lessons
Using technology to enhance professional development
Positive Behavior Intervention Strategies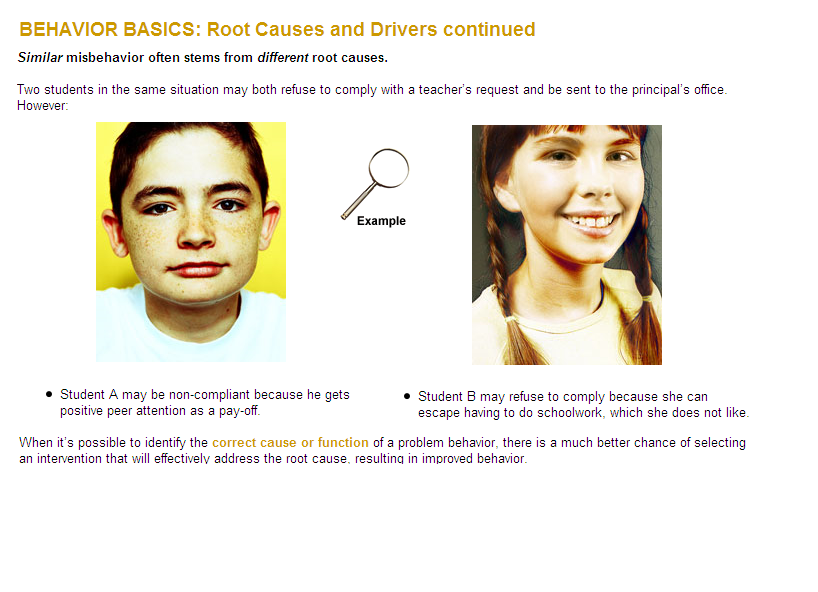 This course is based upon the extensive research, work and writings of Jim Wright, a Behavior Intervention Specialist, Psychologist and School Administrator in central New York. Mr. Wright has experience in the areas of Academic and Behavioral Interventions, Curriculum-based Measurement and Violence Prevention. This course will address research and strategies in the following areas:
Behavior Basics
Group & Classroom Management
Defiance & Non-compliance
Impulsivity & Hyperactivity
Attention & Motivation
Reading Across the Curriculum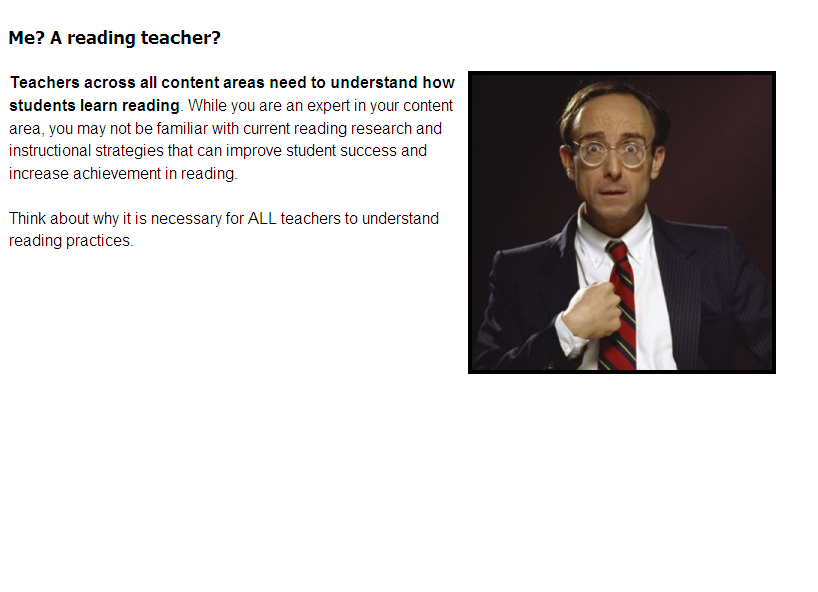 This interactive course is one option for K-12 teachers across the curriculum spectrum to demonstrate evidence of reading instruction techniques. Based on research, Reading Across the Curriculum introduces all teachers to sound reading instructional practices.
Research
Reading Range
Meaningful Reading
Strategies for Reaching All Students
Includes Resources
Reinforcement Activities
Recognizing & Preventing Child Abuse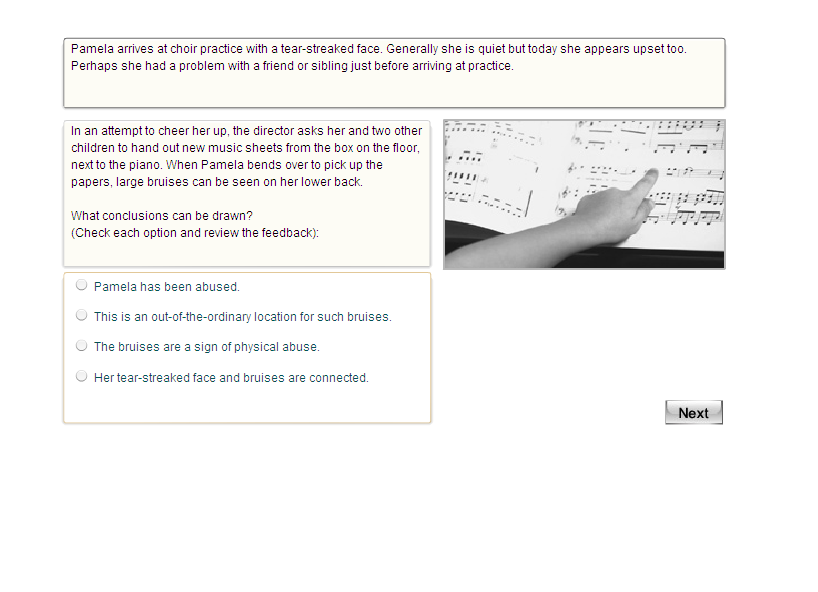 This course empowers each of us with the ability to recognize types, signs, characteristics, scenarios, and in general, indicators of suspected child abuse. We know this is a difficult subject to discuss. For that reason, we think you will find this course to be respectful of the topic while giving a solid foundation in understanding the key information about child abuse.
What is Child Abuse
Physical Abuse
Sexual Abuse
Neglect
Emotional Abuse
Safe Environment Practices
Reporting & Resources
Recognizing Early-onset Mental Health Disorders in Children and Adolescents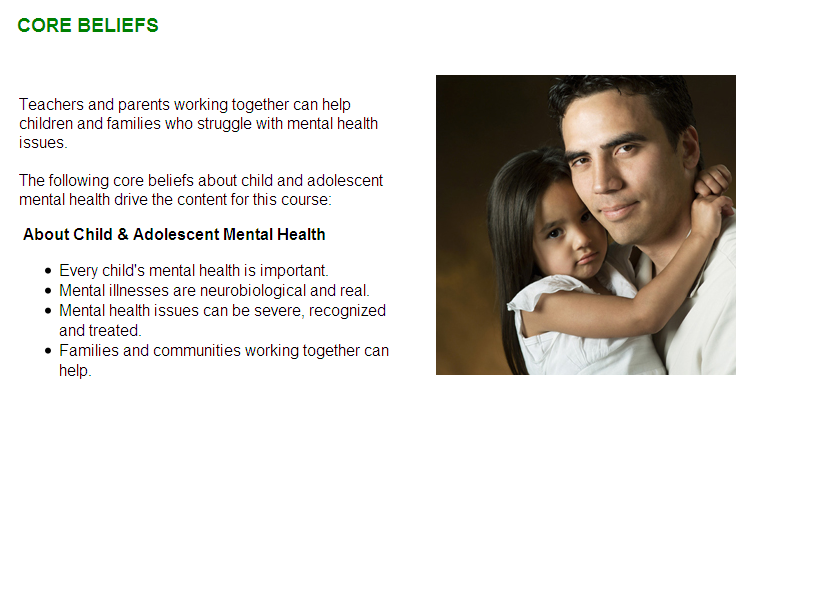 As educators and parents we are often, by default, among the first people to notice that a child may be experiencing problems. Completion of this course results in a basic understanding of warning signs of early-onset mental illness in children and adolescents which is useful to professional teaching and learning as it strengthens teacher-parent communications. Topics covered in this course:
What is mental illness
Parent stages
Communications
What teachers can do
Attention Deficit Hyperactive Disorder
Oppositional Defiant Disorder
Conduct Disorder
Depression
Bipolar Disorder
Anxiety
Schizophrenia
Reflective Teacher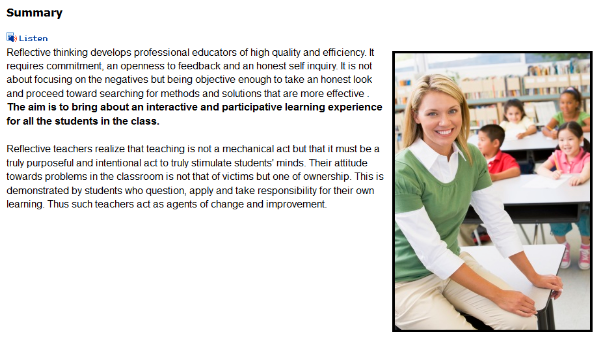 Have you wondered if your efforts and hard work are paying off? Have you spent time pondering over whether your teaching strategies are appropriate for your class and reviewing the results?
Developing a process of reflective thinking or reflective practice is a viable solution to this problem. Reflective practice is considered to be central to effective teacher preparation programs and the development of professional competence. A truly reflective teacher becomes sensitive and responsive to the needs, issues, and concerns that are so important in shaping qualitative educational practice. This course helps educators learn about various reflection and professional development practices that will enable you to become a reflective teacher and grow as an educational professional.

Tackling Tough Text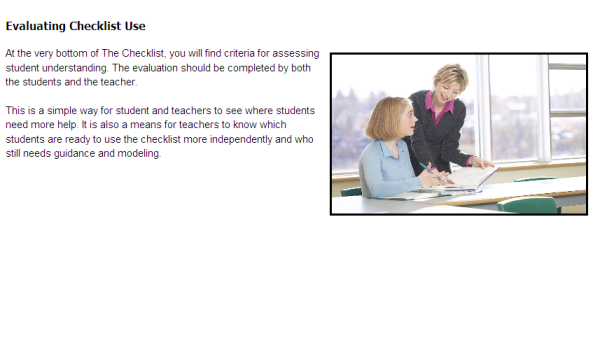 In this course you will learn how to give your students in grades 4-12 the tools to "tackle tough text" and to become successful readers and learners. In teaching, there is a shift of focus that takes place at around 4th grade where literacy instruction changes from "learning to read" to "reading to learn." It is a known phenomenon that a number of students who did quite well in the primary years struggle with this new type of reading. Students reading at their frustration level find it to be well, frustrating. Teachers in all subject areas discover that using the Reading Comprehension Checklist helps students tackle tough text. Empowering students with this unique tool proves to alleviate frustration and increase achievement. This course is based on the proven research by Sue Klund, Reading Specialist and Quality Teaching Network expert.