PACKAGE: The Everything Package – Minnesota #2 (125 Clock Hours)
Average Ratings
Five Stars
Not Rated






"Thank you for allowing me to renew my teaching license while staying at home with my 2 young children-much appreciated!"
You've heard of the everything bagel, Professional Learning Board presents the first everything PD course package, The Everything Self-Study Package – Minnesota #2, which includes the following TWENTY-FIVE 5-hour self-study courses and saves you 25% over enrolling in them individually. If you have enrolled in The Everything Package – Minnesota before, you'll love this second edition! Scroll down to see more information on the courses in this package.
Relicensure (125 hours)

# Hours

Accommodations through UDL

5

Action Research for School Improvement

5

Apps for Education

5

Building School-wide Initiatives

5

Classroom Collaboration

5

Classroom Organization for the 21st Century

5

Cultural Competency and Responsive Teaching

5

Curriculum Development

5

Examining and Evaluating Student Work

5

Flipping Classrooms

5

Guided Reading

5

IEPs: Documentation and Implementation for Teachers

5

Inquiry-based Learning

5

Integrating Standards in Teaching

5

Language Acquisition

5

Preparing College and Career Ready Students

5

Project Management for Students through Project-based Learning

5

Reading through Technology in the Classroom

5

Recognition of Early-onset Mental Health Disorders in Children & Adolescents

5

Research Based Instructional Strategies

5

Spanish for Educators

5

Student Portfolios

5

Suicide Prevention

5

Transformative Classroom Management

Virtual Field Trips

5

5

TOTAL

125
Accommodations through UDL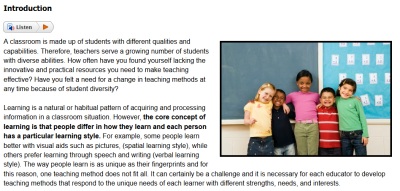 Teaching each and every student effectively is never easy. It is next to impossible to find a classroom full of students with the same needs, learning levels and abilities. Teachers are faced with the challenge of teaching a diverse group the same lesson and ensuring that they all learn in the process. It can be easy to settle for teaching some, or even most of the students, while leaving out a portion of the class in the process.
This course is designed to present teachers with the Universal Design of Learning (UDL) framework, which makes teaching ALL students a very real possibility. The framework builds on research findings that show how a single teaching approach has very limited results on student learning, highlighting the need for a new curricular approach. Here a learner's level of recognition, strategic, and affective networks are all taken into account to determine the best way to teach them.
The course is centered around exploring practical strategies that can be used to add a much needed element of flexibility in teaching presentation, student expression and meaningful engagement and upholding learning as the primary focus.
Action Research for School Improvement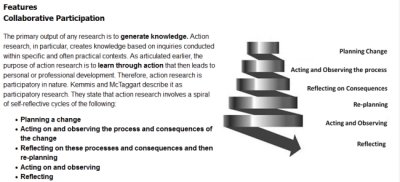 Using research as a tool to bring about change is a key feature of action research. Action research is used in real educational situations, focusing on solving real problems in education, to bring about change quickly and holistically.
Research often conjures up a picture in people's minds of academics working in isolation for years proving theories. To make a distinction from academic research, those involved in action research participate in ongoing testing and monitoring of improvements in their practice. This course provides a framework for teachers to use action research as a means to change or improve their practice.
Another important aspect that the course introduces is intellectual collaboration among teachers. This means working together to identify issues in their teaching context and developing processes for improvement. Action research facilitates the necessary context to help build a strong professional learning community and can be used either as a school improvement tool or as an individual professional development option.
Apps for Education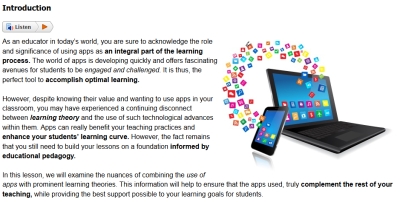 Integrate Ruben Puentedura's SAMR model with Alan November's work on Transformative Learning to find the best apps to educate YOUR students. The integration of apps into education, may seem like a natural product of the times. However, successfully impacting students' learning, requires a whole new level of teachers' engagement and effort.
Teachers will be equipped to go beyond using an app merely because someone else has recommended it and fully examine the true learning potential.
To this end, teachers must take into account specifics, including logistics, ability to manage, content access, sound and image quality, all while evaluating individual apps. A comprehensive App Evaluation Framework, specially designed for the classroom context is presented for teachers' critical consideration of educational apps before deciding to introduce them to students. With an integrated approach, teachers can successfully consider an apps' connections with curriculum content and ability to amplify existing learning levels, while evaluating systematically their transformative learning capability.
Building School-wide Initiatives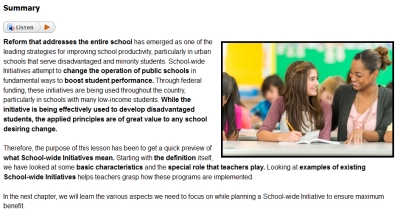 All schools want their students to succeed, but they can only make a lasting difference when they focus on specific goals and strategies for change. School improvement planning is a process through which schools set goals for improvement, and make decisions about how and when these goals will be achieved. The ultimate objective of the process is to improve student achievement levels by enhancing the way curriculum is delivered, creating a positive environment for learning, and increasing the degree to which parents are involved in their children's learning at school and in the home. To address these needs, this online PD course focuses on using school-wide Initiatives to enhance student achievement across the curriculum. Such initiatives target academics, behavior, and any other area that might be lacking. Teachers are equipped to plan and implement such initiatives in an organized, focused, and inclusive way. The resources and strategies here empower them to raise levels of achievement by identifying the gaps, defining focus, creating effective strategies, building an environment that encourages reform, working in tandem with parents and students, and monitoring the desired change.
Classroom Collaboration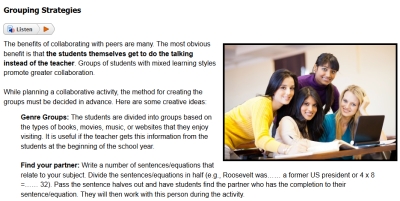 Implement collaborative learning in classrooms and develop successful learners. This framework enables teachers to recognize characteristics of collaborative classrooms, be aware of student and teacher roles, and practice group activities as an essential part of the classroom. Teachers are introduced to school-wide policy reforms in place today that promote collaboration and group activities. Teachers are also provided with ideas and strategies to accommodate learners, including students with special needs. The practical examples, real-life experiences, and templates in this online course provide teachers a structure to use in their own classrooms.
Classroom Organization for the 21st Century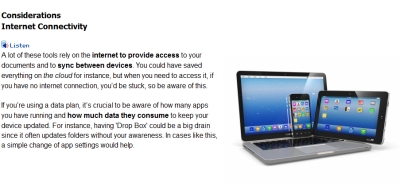 Good teaching is both an art and a science. It requires a significant amount of planning, research, preparation, evaluation, and a whole lot of creativity. However, that doesn't mean teachers need to sacrifice their personal and family life for education. The key to "doing it all" and "doing it all well" is organization. A rested, relaxed, and organized teacher is an effective teacher.
The aim of this course, The Organized Teacher, is to aid teachers as they strive to make their lives and classrooms more organized and a lot less stressful. There are tips, tools, templates, and creative ideas to help teachers organize the classroom environment, classroom activities, assessments, and other class events. The ideas in this course will present effective ways for teachers to be organized and to take practical steps to manage stressful days and avoid time crunches. This will have a positive impact on both themselves and their students.
Cultural Competency and Responsive Teaching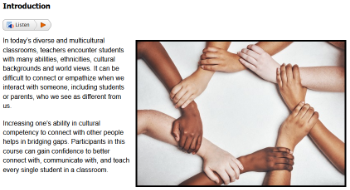 Teachers deepen their understanding of their own frames of reference, potential bias, and impact on expectations for and relationships with students, students' families and school communities.
This course demonstrates responsive teaching in the classroom by helping teachers consider, connect with, and build competence in meeting the many learning needs of all students while addressing culturally diverse classrooms that are sensitive and equitable to learners across languages, genders, religions, cultural backgrounds, and special needs. Designed to meet state requirements for cultural competency and responsiveness training.
Curriculum Development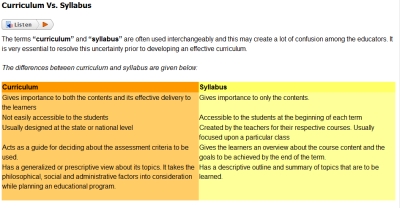 Traditional curriculum cannot always keep up with the challenges of the educational needs in today's dynamic world. Hence, it is essential to redesign the curriculum. This course highlights the fact that each and every educator has the responsibility to contribute, even in small ways, to making a difference in the curriculum. The resources, examples and templates included, guide the teachers to plan, develop, integrate and evaluate curriculum more effectively. This information will empower teachers to implement novel ideas in curriculum development within their classrooms that will help students to face the challenges of the dynamic world around them with greater confidence. An effective curriculum will enable the students to become successful learners.
Examining and Evaluating Student Work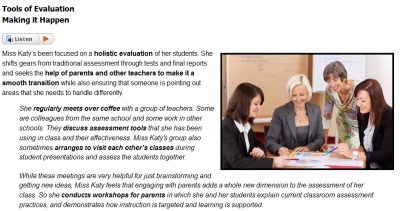 21st century students must have more than just textbook knowledge. Evaluating student learning goes beyond merely grading papers. Both schools and teachers need to intentionally move toward assessing students' understanding, and then use this insight to enhance teaching and learning practices.
The wealth of resources and classroom examples provided here enable teachers to enhance existing evaluation practices. Calling for a shift in approach, the course lays out effective and dynamic methods by which teachers can assess student work. These help ensure that educational focus remains entirely on both teacher and student development. The course recommends expanding these best practices by "Examining Student Work" through a process of intentional reflection with other teachers. Through encouragement to engage with other teachers and learn from shared insights, teachers are equipped with useful resources to successfully implement this process.
Flipping Classrooms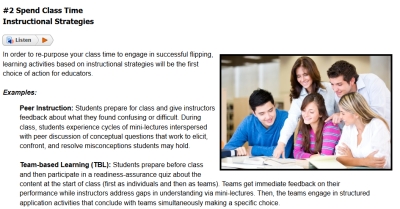 Harness technology to enhance students' learning by examining successful strategies to "flip" classrooms. The flipped classroom approach prioritizes students' needs beyond traditional teaching styles, while challenging teachers to employ innovative instructional methods. Students are encouraged to take responsibility for their own knowledge acquisition by watching lesson videos on their own time and coming to class equipped to build upon their understanding of the concepts presented. The resources, examples and templates presented in this course help teachers to plan and create efficient flipped classrooms. Educators are shown how to integrate content while collaborating effectively with students, co-workers and school leaders.
Guided Reading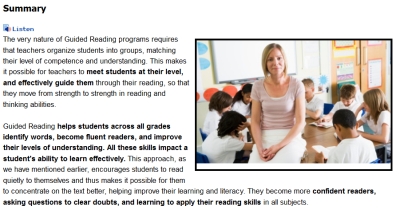 Guided reading proves to be one of the most effective tools, not only to improve a student's fundamental reading skills, but also to develop high level comprehension skills. The teacher's role in guided reading is to provide support, but the ultimate goal is independent reading of a variety of texts with ease and deeper understanding.
Guided reading is presented as an instructional approach to create independent readers and thinkers through strategies that can ensure success such as selecting appropriate text, reflecting, recapping, self-monitoring, analyzing the text, involving parents and more. Teachers will learn how to implement a guided reading program, adapting it to the needs of various kinds of learners and across different subjects, such as math, science and history. Teachers are provided with resources and activities to engage students as well as tips and management strategies to best use space, resources, materials and technology in a manner that students are propelled to greater proficiency.
IEPs: Documentation and Implementation for Teachers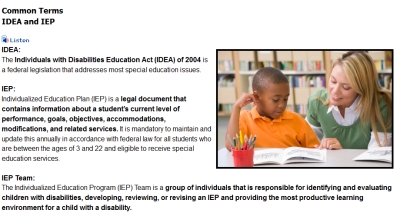 The goal of this course is to help teachers understand the IEP process and build the teachers comfort level in developing, aligning with and carrying out the IEP through rich examples and templates to help teachers understand and practically use the recommended strategies in a classroom setting.
This course helps teachers provide children who have an Individualized Education Program (IEP) with an appropriate education in the least restrictive environment. It is designed to educate the educators on the various regulations and requirements while helping to develop a team that works together to improve educational results for children with special needs. Teachers will examine various supports and services a student with special needs may receive for instruction and testing.
Inquiry-based Learning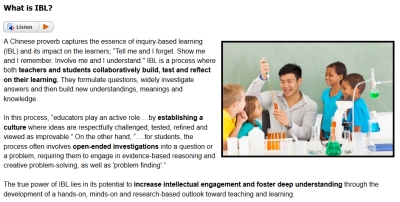 Preparing teachers for 21st century students requires a close look at what it means to teach and learn in increasingly networked, technology-rich, digital classrooms. Schools and teachers need to thoughtfully and intentionally design learning environments and tasks in which teachers explore issues that are relevant while developing pedagogies that are effective for a knowledge era. Utilizing new images and acquiring new expertise facilitates meaningful learning with technology. The Inquiry-based Learning (IBL) approach provides a platform for holistic education.
This course offers a framework for teachers to plan lessons that promote Inquiry-based Learning (IBL). Starting with explaining a need for such a shift in education, the course shows how an IBL classroom works. Through multiple classroom examples, teachers are able to understand what specific and new roles they play and how to encourage student initiative, while ensuring that the focus remains on productive matters.
The Inquiry-based Learning course details some models that teachers can adapt to meet specific needs of their class, as well as to monitor and enhance the learning of their students. Teachers learn practical and dynamic ways of evaluating their students' progress while also incorporating technology for better results.
Integrating Standards in Teaching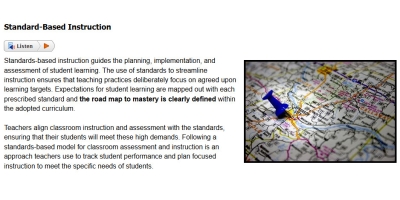 We're told that a standards-based curriculum is supposed to increase student learning and promote higher student achievement, but what is it really all about? This course helps educators untangle what turns out to be the not-so-mysterious-language of today's teaching and learning, and put successful strategies into practice.
Language Acquisition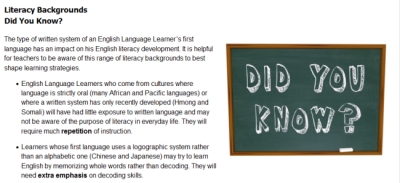 Delve into theories of the language acquisition process, and uncover practical ways for teachers to help English language learners understand lesson content. Through the strategies and information provided in this course, teachers are equipped to meet students at their specific stage of language learning and create aligned activities thus helping students achieve higher levels of linguistic fluency. The techniques presented cover the acquisition and mastery of literacy skills for students including reading, writing and dialogue, as well as understanding and supporting English Language Learners at a deeper level.
Preparing College & Career Ready Students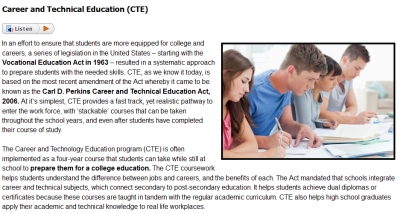 Prepare your students for a successful college and career using a range of research-based readiness strategies. Most students aspire to go to college and make a successful career, but few know what it takes to reach their goal. The tools, templates, and creative ideas in this course will provide the research-based support needed at every critical stage to make all the difference for success. The course will also discuss specific strategies teachers can implement to make student readiness for college and career even more meaningful and effective.
Project Management for Students through Project-based Learning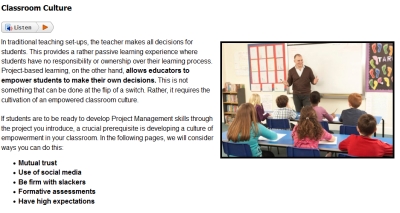 Project management encompasses a range of skills that are highly prized in the world today and include – research, collaboration, communication, leadership, problem-solving and cooperation. For the education system to truly fulfill its purpose of preparing students for a world that requires a mastery of such skills, teachers must be able to find ways to integrate project management training into their classrooms without disrupting the curricular learning. Keeping in view the challenges this poses, teachers are presented with project-based learning, as a means to successfully develop students' needed skills, while simultaneously keeping the focus on topics within the curriculum. The integration of projects into classroom teaching is based on the finding that, often the best way students learn is by doing. Teachers are provided with a range of examples and strategies, along with an in-depth view into the effective use of projects, and understanding of how they can influence student growth at every stage.
Reading through Technology in the Classroom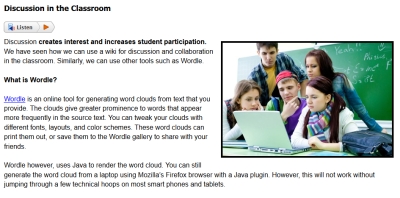 Reading is an essential skill that is central to education. In today's classroom, students use and access information from a variety of sources, not just books. The skills of evaluating content, collaboration and peer-review become an important part of reading.
This course introduces creative strategies for reading instruction that incorporate technology. It introduces teachers to recent advances in technology and to devices and techniques which can be used to enhance reading in the classroom. The course incorporates activities, strategies, and templates teachers can use in order to enhance students' reading skills using technology.
Recognizing Early-onset Mental Health Disorders in Children and Adolescents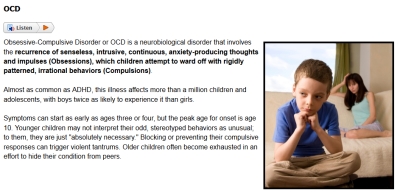 As educators and parents we are often, by default, among the first people to notice that a child may be experiencing problems. Completion of this course results in a basic understanding of warning signs of early-onset mental illness in children and adolescents which is useful to professional teaching and learning as it strengthens teacher-parent communications. Topics covered in this course:
What is mental illness
Parent stages
Communications
What teachers can do
Attention Deficit Hyperactive Disorder
Oppositional Defiant Disorder
Conduct Disorder
Depression
Bipolar Disorder
Anxiety
Schizophrenia
This course provides an understanding of key warning signs for early-onset mental illness in children and adolescents.
Research-based Instructional Strategies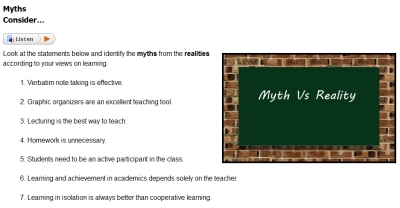 To help students improve in academic achievement, develop an attitude of learning and acquire the skills needed for the demands of the work place and real life situations, educators must continually review, reflect on and work to improve their instructional skills.
This course provides teachers with research based approaches and strategies that can be incorporated into classrooms. These will improve the effectiveness of teacher led instruction and encourage active student involvement in learning. These strategies and approaches are shown to have numerous benefits resulting in increased student achievement and learning.
Through this course, teachers can also have a look at their own views about teaching and learning, gaining a research based perspective on commonly believed myths in the educational field. Teachers are also provided with useful strategies in the areas of reading, writing and math. The course is rich in examples, templates and rubrics to help teachers understand and practically use the strategies in the classroom setting.
Spanish for Educators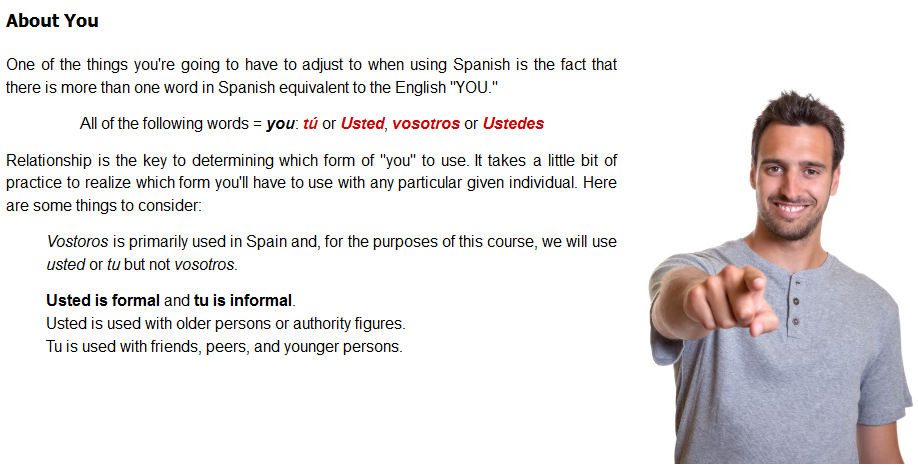 A classroom is a place where all students must feel accepted and involved. Non-Spanish speaking teachers may need to make an extra effort to involve Spanish-speaking students in the classroom. Learning to communicate with students in their language is one way to generate involvement and help students to feel confident in the classroom.
This course, Spanish for Educators, is a primer for non-Spanish speaking teachers to help build communication with students and their families who speak Spanish as a first language. Teachers will be introduced to general vocabulary and phrases that assist with understanding the Spanish language in the classroom as well as throughout a school environment.
The course is rich in activities, tools, strategies, and templates that may be customized for individual use (including letters to parents and telephone scripts). There are live recordings with Spanish words, phrases, and conversations that enable teachers to read and pronounce Spanish words correctly so they can be understood.
Student Portfolios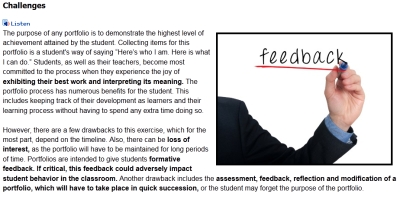 Successfully integrate portfolios to enhance students' development and become an essential part of teaching and learning. Through the resources in this course, teachers are equipped to understand and use portfolios to emphasize the student's role of taking responsibility for their learning and the teacher's role of guiding that learning. The practical tips and suggestions provided in this course will take teachers through the process of implementing portfolios in their classrooms, with factual information clearly linking student learning to the actual goal.
Teachers will be introduced to the concept of using portfolios as assessment tools, and the advantages of their implementation to both teachers and students. The resources included show teachers how to capitalize on the students natural tendency to save work, get them to take a second look and critically analyze how they can improve future work.
Questions answered in this course include – How do teachers take on the role of 'portfolio advisors', and guide students through the process of creating and maintain portfolios? What is the relevance of a portfolio? What are the objectives of an effective portfolio? Rich in examples, considerations, suggestions and tips for teachers, this course aims to enhance the teaching and learning experience for students.
Suicide Prevention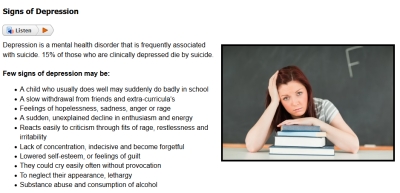 With teen suicides on the rise, suicide prevention is an important issue and teacher awareness is crucial. This course helps teachers understand suicide and how it can be prevented. Teachers will learn to identify early signs of suicide ideations and will be equipped with basic tools to help students. Teachers will be introduced creative activities and strategies that can help promote safe classroom environments. The course also equips teachers to work together with the school to initiate and implement schoolwide policies and programs on suicide prevention.
Transformative Classroom Management
What makes a teacher successful in one school is the same thing that makes a teacher successful in the next school. It is true that all students are unique and group dynamics, cultural backgrounds, and experiences vary — sometimes dramatically. But for the most part, sound ideas get positive results and unsound ideas get mixed results at best.
Not all ideas sold in the marketplace of classroom management strategies lead to desirable results. In fact, many of the most popular ideas result in more harm than good. For that reason, parts of this course are devoted to explaining why many of the most popular ideas in use today are flawed, and what to do instead.
This course is a synthesis of what's effective in the area of classroom management. It builds on extensive time, real experiences of teachers, observations of hundreds of classrooms, research and the best ideas put into successful practice.
Virtual Field Trips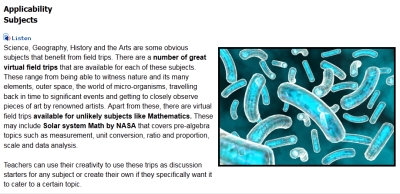 It is the wish of every committed teacher to help his or her students connect knowledge gained in the classroom with real life situations and process information in a way that takes them beyond the books. Teachers are constantly required to grab the attention of their students, keep them motivated and inspire them to own their learning.
A well-planned field trip can serve all of these purposes in a unique way. Despite being known to be of great merit, schools across the country have been cutting short on such expeditions because of limited resources, whether financial constraints, personnel or time. This course offers a great alternative to teachers and encourages them to make the most of one of the most widely-available resources of our times – technology. Given the rapidly developing digital resources, teachers can take a diverse group of students on virtual field trips and offer them near-life-like experiences that will develop their thoughts and provide wholesome educational opportunities.
This course gives teachers a basic understanding of what virtual field trips are, the different types of trips and why they can be considered a valid alternative to actual field trips. It also offers a look at some concerns that surface while planning virtual field trips and how these can be addressed. The course also details the process of planning an effective virtual field trip with emphasis on how teachers can equip themselves technically. Looking at a selection of pre-existing virtual field trips, teachers will be able to understand the elements of a good trip. They will also learn how to create their own custom-made field trips using an array of online resources offered in the course.
Classroom examples will help teachers understand how they can incorporate these virtual trips in their lesson plans and the various roles they will play during these tours. Teachers will also be equipped to evaluate virtual field trips and will know their impact on student learning.