North Dakota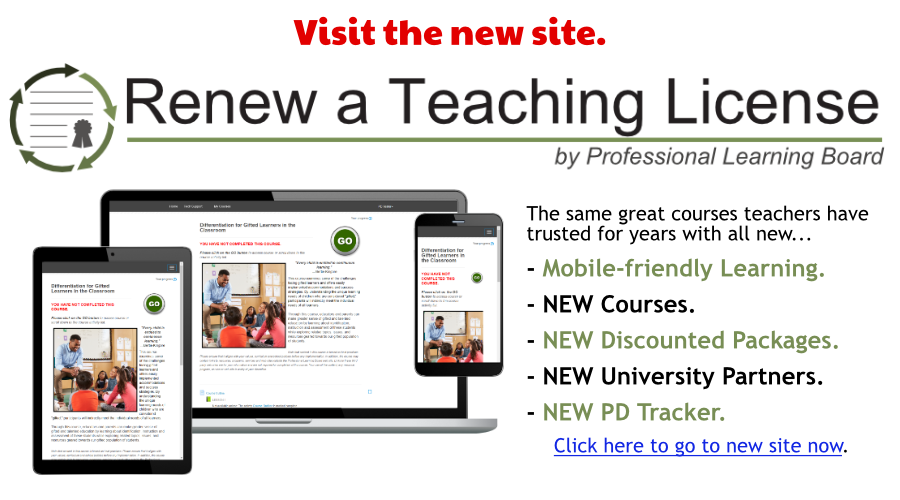 Professional Learning Board offers self-paced Graduate Credit classes for teachers that incorporate online content, quizzes, interactivities, instructor involvement and a Course Action Plan teachers can put to use in classrooms with students.
Learning takes place asynchronously, at your convenience.
May be completed over a period of 4 to 6 weeks.
Receive 1 Semester Graduate Credit through your choice of our regionally accredited university partners.
Adams State University
Ashland University
Humboldt State University
State
Colorado
Ohio
California
Regionally Accredited
Yes
Yes
Yes
Number of Credits
1
1
1 – 2
Credit
Semester
Semester
Semester
Grading
A – F
A – F
A – F
Duration
4 to 6 Weeks
4 to 6 Weeks
4 to 6 Weeks
Course Access
Online 24×7
Online 24×7
Online 24×7
Online Content
Included
Included
Included
Additional Materials
Included
Included
Included
Time to get Transcript
Approximately
1 Week
Approximately
1 Week
Approximately
1 Week
Payments
2 Separate Payments
2 Separate Payments
2 Separate Payments
PLB Payment for Course
$140
$140
1 Credit = $140
2 Credit = $240
University Payment for Credit
$55
$140
$50 Per Credit
TOTAL Price
$195
$280
1 Credit = $190
2 Credit = $340
GRADUATE CREDIT COURSES
Academic Interventions

This course introduces teachers to STEM and student-centered learning to create and implement a standards-based curriculum. Teachers are then able to customize and differentiate curriculum for each learner acting more as facilitators, coaches and mentors.

Child Abuse Prevention

Protecting children is the role and responsibility of every adult. Be it in or outside of school, educators need to be aware of all red flags indicating a child is being abused.The course Child Abuse Prevention tackles this very sensitive issue and aims to equip teachers with the essentials of recognizing and preventing abuse to maintain safe and secure learning environments. Addressing accommodation, modification, and adaptation of curriculum, materials, and instruction to appropriately meet the needs of teachers and a variety of students.

Cognitive Skills – Understanding Learning Challenges

We all know the brain plays a major role in learning, but few are aware of how. In a class where each child differs in ability to learn, it is essential that educators know how the brain is related to the process of learning, in order to help facilitate student performance. Such knowledge will also give the educator an advantage when faced with the challenge of teaching a child with special needs. This course equips educators with extensive knowledge about the process of learning.

Cohesive Classroom Communities

Teachers are equipped to transform their classrooms into cohesive learning communities, through this three part online PD course package. The course begins with Classroom Collaboration where educators come to understand the importance of the teacher's role in creating an environment where young people are willing and able to work collaboratively. Teachers are taught to recognize, appropriately handle and make accommodations, for diagnosable mental health issues among students. The course helps teachers understand that they play a valuable role, and can help save a life, by learning about the prevalence of suicide; understanding suicide and how it may be prevented.

Common Core Implementation for All Classroom

Schools and educators all over the country are engaged in implementing the Common Core State Standards. This can be a challenge. This three part course is designed to provide teachers the support and confidence they need to implement the standards in their classrooms. The course focuses on practices teachers can use to promote student motivation and self-learning while decreasing and eliminating behavior issues. Teachers learn to assess basic academic skills and identify areas in which students need support. Teachers also learn to develop a process of reflective thinking and becoming sensitive and responsive to the needs and issues of students. The practical examples and techniques explained in this section provide an understanding of the phrase 'learning while teaching.

Common Core Intervention Across the Curriculum

The implementation of Common Core State Standards across the curriculum provides a real-world approach to learning and teaching. It is increasingly essential for educators to develop students who not only are critical thinkers but innovators as well. This course helps teachers to build up such students. Educators learn about implementing Standard-Based Instruction through STEM, bringing together the benefits and opportunities associated with this new education paradigm and guides teachers to customize classroom instruction so that students develop the skills they need to survive in today's knowledge-based world. This is extended in teaching educators how they can apply mathematical principles to everyday life. This course also helps teachers evaluate and monitor basic academic skills based on Common Core principles. By completing this course teachers gain the needed confidence to implement common state standards across the curriculum.

Money for Classrooms

This course will help teachers to maximize their classroom budget and raise funds for innovative ideas and projects. Teachers will learn to create effective budgets, write grants and create fundraising campaigns while connecting with community stakeholders to support educational endeavors in the classroom.

Pedagogy Essentials

Teaching amongst the technological advances of the 21st century, brings with it unique challenges of combining education and theory with classroom practice. This three part course is designed to provide teachers the background knowledge and resources they require to use research findings to enhance their students' learning. The course covers Research Based Instructional Strategies, which focuses on strategies teachers can use to channel research findings to improve their quality of instruction. Curriculum Development equips teachers to create effective, yet practical unit and lesson plans that equip students to learn more efficiently. The course also focuses on enabling teachers organize their teaching plans, work-life balance and the various aspects of their classroom.

Peer Coaching and Evaluation

Prepare students for a successful future in college and careers. This online course suggests an approach to overall development of the student from elementary through high school that can help students become college ready and successful in their careers.

Preparing College Ready and Career Bound Students

Prepare students for a successful future in college and careers. This online course suggests an approach to overall development of the student from elementary through high school that can help students become college ready and successful in their careers.

Raising Academic Achievement

Academic achievement has become an important benchmark in education. This course is full of strategies and educational practices that can help improve academic achievement. In addition to classroom tools and ideas, this online course helps teachers analyze student work to identify gaps in their teaching and helps raise academic scores by establishing a culture of inquiry.

Reaching Diverse Learners

Diversity is becoming a very real issue in our classrooms today. We have an increasing number of students requiring various learning styles, coming from different cultural backgrounds, and demonstrating ever-maturing attitudes. Reaching Diverse Learners is an integrated course that is brimming with ideas and strategies to help educators maximize abilities and cater to the individual needs of every student. Teachers learn about teaching English Language Learners and prepares you for your multicultural classroom. The course is also full of practical ideas and techniques that will help you as an educator learn to manage your classroom more effectively. Educators with learn concrete ideas and strategies to reach and teach every student in the diverse classroom.

Reading Across the Curriculum

Reading should be a meaningful activity that is focused on comprehension and that results in understanding. When students struggle with a specific subject matter the underlying reason is usually also identified as under developed reading skills. The strategies in this course are imperative for all educators to help their students become proficient readers. This course helps teachers understand how to assess reading skills in the classroom and plan instruction accordingly. It also equips educators to empower their students with confidence when handling tough text. Teachers also learn how to act as a facilitator for small groups for guided reading.

Standards and Communications in Teaching

In an age where there are multiple approaches to teaching and educating students, it becomes important to ensure that a particular standard is maintained. This class helps educators achieve goals, while empowering you with skills and tools to deliver the best of quality education. Standards and Communications in Teaching is a three part integrated course that highlights various strategies for facilitating student learning and improving academic achievement. It also focuses on positive communication, both with students and parents, in order to achieve excellence in education.

Standards in the Classroom

Teachers in this course explore approaches to instruction, assessment and evaluation that they can implement in their classroom. This course focuses on practices teachers can use to promote student motivation and self-learning while decreasing and eliminating behavior issues.

Students with Disabilities

Every student is unique and has different needs, learning levels and abilities. As teachers, it is certainly challenging to teach each and every student effectively. This online course presents reaching students with special needs as a real possibility. It prepares teachers to plan for IEPs (Individualized Education Plans), reveals the Universal Design of Learning framework, and shares Assistive Communication tools and technologies to help all students attain their maximum educational potential.

Teachers in Leadership

The strength of an educational institution lies in its leadership, educators and students. This online course is rich in content that highlights changes or initiatives that can be implemented to improve student learning and encourage school improvement. Teachers taking this class can explore strategies for improving their public speaking skills and in turn, facilitate improved communication with audiences.

Technology for Student Learning

We live in a technologically advanced world. But, for teachers, the hallmark question is to understand how we can effectively use this technology to enhance student learning in the classroom. This online course will shine light on the multi-faceted uses of technology in the classroom. Teachers will learn how to choose technology for the classroom, be techno-savvy especially in the use of iPads and how to flip a traditional classroom to one with innovative instructional methods designed for enhancing student learning.

Technology for Today's Classroom

This course highlights the advantages of using technology as both a resource and a tool for educators in their classrooms. The class helps teachers enable safe implementation of technology in classrooms and prevent misuse while promoting effective learning through practical ideas and steps that educators and students can take to ensure safety when online.

Understanding Special Learning Populations

As educators, we all face situations where we accommodate students with special needs in our classrooms. In such situations, how can we modulate our teaching to ensure that we reach each and every child? This course is designed to help educators encourage and maximize each child's potential.Terms like Autism, ADHD, learning disability and gifted learners are being constantly used. What do they mean? What makes these children unique? And most importantly, how as an educator can you enhance these students' learning ability? These are questions that are answered in this course.

Welcome North Dakota Teachers

(Not a North Dakota teacher, Click here to find your state)

Teachers in North Dakota use Professional Learning Board online courses for teachers to meet ND requirements, keep an North Dakota teaching renewal credit current and renew a teaching renewal credit in ND.

Graduate Credit Courses
Incorporate quizzes and a Course Action Plan. Teachers, study at your own pace, complete within 4 weeks and receive 1 semester graduate level credit through a regionally accredited university partner.

Professional Learning Board courses align with teaching standards and are designed for teachers across grade levels and subject areas. Professional Learning Board is recommended by school districts and teachers across the country, please ensure the courses meet the requirements of your local authorities to meet your local needs.

Click on the course name(s) below to enroll or see the descriptions to the left.

GRADUATE CREDIT COURSES:

The information and courses listed on this page are presented based on the information available at the time of publication. Please note that state licensing requirements and school district approval processes may change and it is the responsibility of each teacher to know their licensing requirements and the process for submission and approval of all professional development and licensing work. Professional Learning Board does not guarantee acceptance by your school, district or licensing authority.

"Your courses fit my needs perfectly. They were ideal for someone who does not have a great deal of flexibility, and I learned a lot."

"This course was fantastic! I actually looked forward to working on the course! It was fun, interactive, practical and useful. Thanks for putting this together so well!"

"A great deal of technical terminology was foreign to me before I started this course. I have a new appreciation for blogs and various instructor/student sites that can be helpful for both students and teachers. The quiz was also a solid assessment of what was presented in the course."

Sophia S.

"I learned more from this course than I ever could have anticipated. It truly was enriching. I thought the course was great. It provided a different outlook on certain skills that will be helpful to me in my teaching."

Brenda K.

"This course was very informative and really opened my eyes to the struggles of autistic students. With an increase in autism, I know I will be teaching more autistic students as time goes on. This course gave me more confidence and ideas to handle these students."

Christine W.

"This course had me take a step back and look at my teaching style. I thought I was using technology by the occasional technology based project and using the SmartBoard every day. I now realize this is not enough. There are so many different ways I could include technology into my daily lessons. I need to try harder to include technology into the lessons."

Kelley Z.

"Both the Transformative Classroom Management and the Positive Behavior Intervention courses persuaded me to confront classroom challenges in a productive way. I thank you for that."

Robert D.

"This was a very enjoyable online class. It was extremely informative about cognitive skills. As a working teacher and mother, this class gave me great flexibility with the time frames. That was really important to me and made taking this class much less stressful. I enjoyed not having to write a paper but still took as many notes as if I would have. The test/quiz at the end covered the information and the questions were straight forward and not tricky. Thank you for making an online class informative, non-stressful, and extremely enjoyable."

Laura D.

"I loved all the printable materials and online resources. The course information is valuable and I've already started implementing some of it in my classroom. Thanks so much for offering this course. I enjoyed it very much."

Karen M.

"Great course for review and refreshment! The video clips were good and the review/check for understanding were very good/helpful/pertinent. I appreciated this course. Thanks!"

Rita M.

"I really enjoyed trying out the websites included in this course. I admit I was starting to fall behind in technology and I feel that this course and the websites/resources provided have given me some ideas to incorporate technology into my classroom. Overall I think my students will appreciate these new resources to differentiate their lessons and give them some more hands-on experiences."

Jacob G.

"This course has made me aware that there are many different methods of incorporating technology into the classroom. I knew that technology gave students instant access to all kinds of information but the concept of making lessons more fun, engaging the student, student centered learning will have a positive impact on my teaching. I do believe it is my responsibility as a teacher to continually improve and implementing new technologies will certainly lead to more effective learning."

Miriam A

"This is a wonderful way for me to select licensure renewal courses while confidently knowing that I am meeting the MN standards. The Everything package was perfect for me as I decided recently to renew my license and am hoping to do so in time for next school year."

Cindy B.

"This was my first attempt at on an on-line course in a very long time. I enjoyed the lessons and activities. Thank you."

Nancy H.

"Excellent course! Super resources, highly applicable and practical."

Debra H.

"I really enjoyed the course. It was straight forward and easy to use. The instructor was very elaborate in her responses, and helped to clarify questions. All responses were received in a timely manner as well. It was a great course with good pacing and I learned lots of material in a short amount of time that I can use in future classroom environments."

Mark F.

"I really liked the content of the bullying course. I felt the main points made were exceptional and should be taught to schools."

Rebecca S.

"Thank you for having this resource available to help meet licensure needs in a way that can fit into my schedule and finances!"

Joleen F.

"Easy to use and great for license renewals! Thanks!"

Ashley B.

"I love learning! Just completed this wonderful course in cognitive skill building, good towards 5 professional hours. The best part is, although I am a learning consultant and a reading specialist, I believe I learned more in this coursework, than in all my education classes combined. It got right to the point, addressing cognitive issues directly, instead of just tackling the secondary academic issues. It speaks to neuroscience, and the amazing capability of the brain to improve itself, through specific techniques and activities. The comprehensive nature of this program, and its practical uses is a marvel! Absolutely highly recommended."

Shari K.

"I love the fact that I can access this course any time or any where. It is also great that I have an infinite amount of time to complete the course."

Lindsay C.

"This is my first online course and I learned so much! The course began with material I was already familiar with and built upon that. I learned many new things that I can use professionally as well as personally."

Jennifer S.

"Information was conveyed in a clear, concise and interesting manner."

Maureen C.

"Great course presentation The videos were useful. The content was interesting. Text to voice-pleasant voice helped make learning pleasant."

Darlene J.

"I had no technical issues with this course, but it's my first one through your program and I just wanted to provide feedback. I was so engaged throughout the whole 5 hours of this course, that it amazes me. We teachers take these courses because we have to have so many hours of professional development per year, and it becomes a "duty." This was a PLEASURE. What a great feeling to come away from the time invested feeling like I truly learned something – and something enlightening and USEFUL! As an elementary teacher (first grade) reading and phonemic awareness are huge in my classroom – to have that addressed – as well as the practical ways to improve on the cognitive skills so necessary to gain academic achievement – this was a total worthwhile and successful five hours. I fully intend to take other courses with you, and to recommend to my colleagues what a great resource you are. Thanks – and kudos to PLB!"

Kathleen D.

"THIS WAS REALLY A GREAT LEARNING TOOL. THANK YOU FOR MAKING IT AVAILABLE."

Lisa A.

"I was pleased with the course and the facilitator. Feedback was timely and useful. Suggestions were thought provoking. I want to look over course offerings and probably take another course this winter."

Cean F.

"I can see that there are many ideas and materials that will be useful for the next school year, especially once we know our standardized test scores and goals for reading for the new year"

Judith Z.

"I really enjoyed and appreciate the learning opportunities provided through PLB. I am planning on taking more courses and letting my district, special ed. teachers and teachers know about this website. I can only say good things. Thank you so much."

Reeny S.

"I was very pleased with the structure of the course and the format it was presented in. I have already informed our union president about this site to make sure she promotes it in our district. Each course I took was extremely interesting. Thank you!"

Melissa J.