Teaching Children about Bullying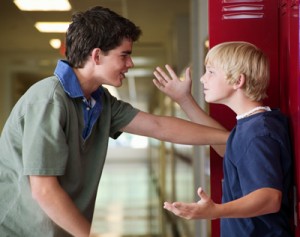 In recent years, the media has been referring to EVERYTHING from the most minor annoying actions such as eye-rolling to more aggressive and violent acts as "bullying."
However, human behavioral experts generally make a distinction between bullying and criminal behavior.
Acts like theft, assault and battery are crimes.
They are not considered bullying.
The law enforcement system exists to protect people from such criminal actions while punishing, and
if possible, rehabilitating
perpetrators.
Bullying however refers to the ordinary mean behaviors that frequently occur in social groups, such as verbal insults, sarcasm, rumors, mean gestures, intimidation, social exclusion, hitting and pushing that doesn't cause injury and posting nasty messages or pictures via electronic media (cyberbullying). While these behaviors can cause great suffering to victims, they usually do not fall into the category of a crime, especially when committed by children who can how to handle these issues.

Experts also identify that a lot of parents are not properly equipped to handle this issue with their children and suggest intense reading or counseling. This would help adults understand bullying, bullies, victims and ways to handle this issue, before teaching children about bullying.
Talking to children about bullying can help eliminate the possible risk of innocent bullying at a young age turning into criminal like behavior in adulthood.
Learn more from Professional Learning Board… Take a course.