BYOD in Schools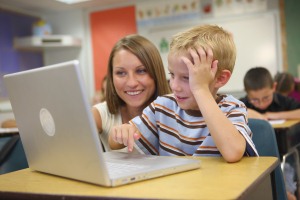 Technology in learning is something teachers are trying to embrace and integrate into classrooms today. It is thus becoming important to consider how and when we bring in new technology. With schools having tight funding and quickly changing technology, it may be time to start seriously considering the concept of BYOD or bring your own device. Initially this was propagated in corporate work environments, but today BYOD is becoming relevant and may be the solution to the huge gap between need and access.
BYOD basically suggests that we welcome students to bring their own tech devices like laptops, iPads or smartphones to the classroom. Then we help students share these or work on them, as needed, for classroom projects and activities. The advantages of BYOD are that we get to use the latest technology in learning and help students learn to use their devices for educational purposes. A further advantage is that we're employing practices that occur successfully outside of a K-12 classroom environment and school.
This said, there are aspects of BYOD that educators need to consider. Schools will need to develop and implement usage policies or rules that regulate what students use their devices for, both at school and within the classroom. There will need to be systems to ensure that students don't access inappropriate content at school. And, practices that eliminate the possibility of using these devices for cheating are something to think about. By encouraging students to bring their own devices into the classroom, we can cultivate a positive approach toward the integration of technology.
Students bringing their own devices is not an excuse for schools to stop spending money on equipping classrooms. Rather, BYOD can help decrease the burden and make technology integrated classrooms a realistic possibility for many schools.
What are your thoughts on BYOD in schools?