Class Debates: Preparing for Healthy Discussions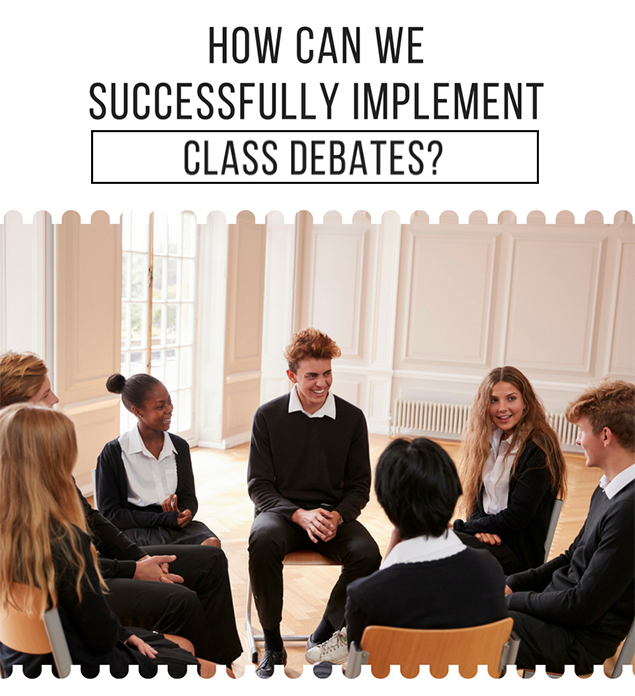 Class Debates: Preparing for Healthy Discussions
Class debates can enrich the learning process as they:
Promote active student participation and learning.
Encourage students to improve their speaking, listening and critical reflective skills.
But how can teachers set the stage for healthy discussions? Here are some points to keep in mind:
Introducing the Topic:
When choosing and introducing a topic, teachers must take care to:
Select a topic which is optimally challenging, informative and relevant for students.
Make sure that students have clearly understood the topic.
Sides:
Teachers can divide students into groups that take turns debating. This encourages:
Equal participation, as every team member must contribute to research, preparing and debating.
Breaking down large topics into smaller chunks.
Peer review and assessment with some groups debating, and some groups assessing and scoring the debaters using a rubric.
Having an audience can also make debates more interesting and realistic for students. Teachers can either assign sides to the groups, or allow students to freely choose their stance on the topic. Another method is to write the topic, ask students what their opinion is on the topic and group those with similar opinions together.
Prep Work:
Students must be given adequate time to research and prepare for the debate. They can be instructed to record their arguments and evidence on paper as essays or outlines, as it can help keep them on track during debating. They must also form a plan of action or strategy for debate. Teachers can assign one or two students to begin the debate, and have other members record the statements mentioned by the opposing team and find rebuttal points.
Set a Format:
Plan and incorporate a structured debate format to avoid confusion and arguments. Teachers can clearly state guidelines such as:
Time: Teachers can implement a 2-minute rule, meaning 2 minutes to state cases, 2 minutes to prepare arguments and 2 minutes to present arguments and close. The time allotted can always be adjusted according to the topic.
Taking Turns: Groups are instructed to show respect to other groups by allowing members to talk without interruptions. During that time, groups must pay attention and take notes to strengthen their arguments.
Debating behavior: Students should know to be courteous to each other, and open minded about other opinions.
Opening and Closing Statement:
It is important that students frame opening and closing statements for their presentations. Opening statements indicate the student's stance on the topic and acts as a reference point if the argument is sidetracked. Closing statements help students to repeat and emphasize their arguments.
Assessment:
Teachers can provide rubrics for assessment, as this can help students self-evaluate performance.
With these tips set in place, teachers can prepare class debates that are engaging and productive for student learning.
---
Like this article for teachers?
Browse the Professional Learning Board COURSE CATALOG to find related online courses for teachers in your state. Professional Learning Board is a leading provider of online professional development classes that teachers use to renew a teaching license or renew a teaching certificate.