Classroom Environment Impacts Behavior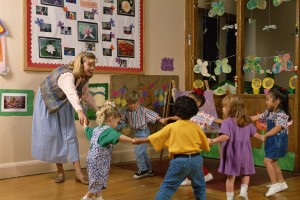 Physical environment has a direct impact on behavior. Consider the following aspects of environment: space, temperature, visuals, texture, scents and sounds.
Arrange the physical layout of a classroom (e.g., furniture, location of student work materials) to ensure that students can move easily throughout the room with minimal distractions and no 'traffic jams' during group transitions.

Check to see that there are no 'blind spots' or hidden corners in the classroom where students are not visible to the instructor.

Seat children with challenging behaviors in an action zone , locations where the teacher is likely to receive greater eye contact and physical proximity. This also creates a number of interactions in which behavior feedback and acknowledgment of understanding can be exchanged between student and teacher.
From Professional Learning Board's online continuing education course for teachers: Positive Behavior Intervention Strategies (PBIS)