Developing Critical Thinking in Students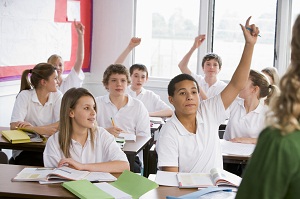 It is important to develop critical thinking in students. This skill set will help them deal with everyday situations with greater ease and responsibility.
There are many strategies that can be used to make students think
critically. Some of them are:
Classroom Assessment Techniques
In this technique, you let the student assess the lessons on an ongoing basis. Posing questions like 'What's the most important you learnt from today's lesson' will get into thinking critically.
Case Study/ Discussion Method
Another technique is to foster a discussion or present a case study in the classroom. Do not present a conclusion. Let the students wander through the discussion or case and think their way to a conclusion.
Conference Style Learning
Another strategy to develop critical thinking in students is for the teacher to avoid "teaching" in class, but play the role of a facilitator in a conference, where you guide the class along even as students are the ones who do the reading and explaining. It is important that teachers' do not misinterpret their role to be passive but remain in control of the lesson while letting the students do the thinking.
Giving your students broad writing assignments allows them to think through an issue. Encourage them to reason and argue both sides of the issue.
Being a little ambiguous forces your students to think for themselves. Remember though that there is a difference between being ambiguous and simply confusing your students.
What are some strategies that you can use to encourage critical thinking in your classroom? Share your ideas.
Learn more teaching strategies and tips through Professional Learning Board's courses for online continuing education and professional development.