Facebook is Making Us Do It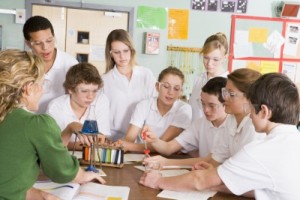 Man is inherently social. A modern illustration of this fact is the exponential growth of Facebook over the recent years. We learn best by interacting with others. We create the most wonderful things when we are able to work as a team and build on each other's work and talents. Collaborative work is how most workplaces function today, and thus, collaborative learning becomes an important aspect of learning in the classroom.
Possible ways to help build this skill and model it while working with children can include the following activities: arrange for group interactions, stress the importance of listening to one another, pull student's ideas together, develop plans and build projects, take votes and recognize individual contributions in accomplishments. You might consider assigning learning tasks that are near impossible to do unless students work together. For example, activities that require each student to write something. Or even a complex task in a short amount of time that forces students to divide and conquer the work, forcing each one in the team to do part of it.
Today most companies have teams with team members located in different places, sometimes even in different time zones. Good communication and collaboration is essential to being able to achieve in both school and in the workplace.
How are you preparing your students for a collaborative work environment?