How Can I Help Students Be Responsible Digital Citizens?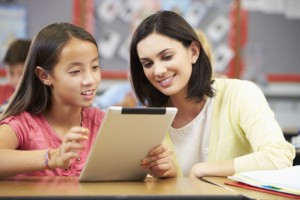 E-learning, blended learning, on-line learning, integrating technology with classroom instruction, Bring Your Own Device (BYOD) initiatives – these are some catch words that have changed the dynamics of the academic world in present times. The explosion of technological development in society has inevitably presented a wide range of possibilities at the click of some keys. And even as schools and educators use the available tools for holistic education, it is essential that teachers and students are equipped to use technology responsibly. The instances of students as well as adults misusing and abusing technology are far too many to be ignored.
What is Digital Citizenship?
'Digital Citizenship' is a concept that helps teachers, technology leaders and parents to understand what students/children/technology users should know to use technology appropriately. It is more than just a teaching tool; it is a way to prepare students for a society full of technology. This would focus on the norms of appropriate, responsible technology use. Towards that end, one way of helping students is following the REPs.
REPs (Respect, Educate and Protect)
The concept of "REPs" is a way to explain, as well as teach the themes of digital citizenship. Each area encompasses three topics which should be taught beginning at the kindergarten level. When teaching these ideas the top theme from each group would be taught as one REP.  For example the first REP would be: Etiquette, Communication and Rights/Responsibilities. This would continue through REPs two and three.  This method helps to ensure that all students have covered the same topics and everyone has the basic ideas of digital citizenship.
Respect Your Self and Others
Etiquette: Understanding electronic standards of conduct or procedure.
Access: To work towards providing and expanding digital access.
Law: electronic responsibility for actions and deeds. 
Educate Your Self and Connect
Communication: Understand electronic exchange of information.
Literacy: What technologies must be taught; how to use technology quickly and appropriately.
Commerce: How to be effective consumers in the digital economy.
Protect Your Self and Others
Rights and Responsibility: Understanding the freedoms extended to everyone in a digital world; how do digital rights and responsibilities work together?
Safety or Security: Electronic precautions to guarantee safety and protect information.
Health and Welfare: Physical and psychological well-being in a digital technology world.
The web is a good place to find resources regarding proper learning and citizenship on the internet. Listed below are some such resources that will help you promote safe e-learning whether you choose to follow the REPs format or do it in other engaging ways.
Common Sense Media Student Video Library
http://www.commonsensemedia.org/video/educators
You can access more than 20 videos that are each 2-4 minutes long. These can be great conversation starters in class and can also be used in conjunction with their corresponding lesson plans.
Media Smarts
http://mediasmarts.ca/teacher-resources/find-lesson
Canadian not-for-profit charitable organization MediaSmarts has developed and delivered high-quality digital and media literacy resources aimed at advancing digital and media literacy in schools, homes and communities.
Understanding You Tube and Digital Citizenship
http://www.google.com/edu/teachers/youtube/curric/index.html
YouTube is one of the most easily and widely accessed resources for both students and adults. Its dangers are just as many. So it has devised an interactive curriculum aimed to support teachers. Topics covered include: YouTube's policies; How to report content on YouTube; How to protect their privacy online; How to be responsible YouTube community members?
Digizen
http://www.digizen.org/
The Digizen website provides information for educators, parents, careers, and young people to build their understanding of what digital citizenship is. It is a good resource for specific advice on issues such as social networking and cyber-bullying and how these relate to and affect online experiences.
Cyber-bullying Tool Kits
http://www.commonsensemedia.org/educators/cyberbullying-toolkit
Teachers often face the dilemma of how to handle situations of cyber-bullying that hurts students and disrupts classrooms, leading them to wonder, what should one say or do, what can one do to help students avoid such bullying? This toolkit will help take on those questions and take an effective stand against digital harassment.
Cable in the Classroom
http://www.ciconline.org/DigitalCitizenship
This site explains how Digital Citizenship is a holistic and positive approach to helping children learn how to be safe and secure, as well as smart and effective participants in a digital world. It includes helping them understand their rights and responsibilities while recognizing the benefits and risks, and realize the implications of their actions, both personal and ethical.
Pinterest Digital Citizenship
http://www.pinterest.com/edutopia/digital-citizenship/
This offers a variety of resources for parents, teachers and administrators to guide students to become positive digital citizens and leaders.
Discuss Here: What are some activities that you have used to talk about Digital Citizenship in your classroom?