How Can I Make My Presentations in the Classroom More Effective?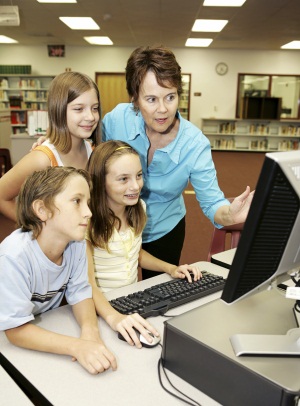 Many teachers already use presentations through programs such as PowerPoint and Keynote to aid in classroom instruction. Consider ways that presentations might be used more effectively. A general rule of thumb is that the the presentation (slides) should not speak for the presenter. The slides should supplement and highlight main points. Never put an entire lecture on PowerPoint slides and read from them. Also, use large font and minimal bullet points. A great use of slides is to introduce images that depict your presentation highlights.
Keep this in mind, if someone could look at a print-out of the slides and learn everything that is discussed in the lecture, PowerPoint was not used effectively. You are the teacher – your lectures and classes should not be able to be replaced by sheets of notes!
A favorite classroom project of many teachers is having students create presentations using these software programs for research projects. The same guidelines given above should be passed on to students when they use slideshow presentations.
Discuss here: What are some presentation rules that you follow to make your presentations in the classroom, interesting and interactive?
Learn more: Take a course