How Can Teachers Give Feedback That Impacts Student Achievement?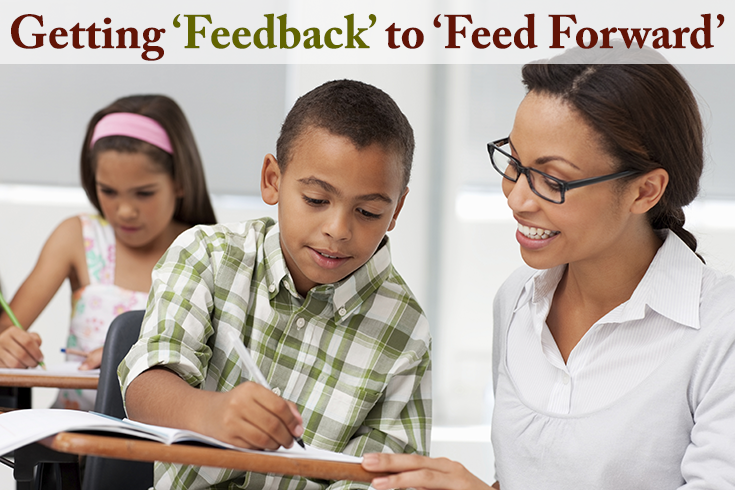 It's time we shift from assessment of learning to assessment for learning…
Constructive feedback can allow students to recognize areas of deficiency and assist them in closing the gap between actual and desired achievement. However, not all of teacher's feedback stimulates learning. Rather, it would seem that students often ignore feedback or do not know how to use the feedback constructively.
A fundamental problem with all types of feedback: it focuses on the past, on what has already occurred – not on the infinite variety of opportunities that can happen in the future. Thus, feedback can be limited and static, as opposed to expansive and dynamic. It's time we shift from assessment of learning to assessment for learning.
The concept of 'feed forward' fits in better here – to listen to the suggestions for the future and learn as much as you can. While feedback focuses on current performance (and may simply justify the grade awarded), feed forward looks ahead to the next assignment. The latter ensures that assessment has an effective developmental impact on learning. Its many advantages include:
1. 'Look at the road ahead, not at the wall.'
We can change the future. We can't change the past. Feed forward can help students envision and focus on a positive future (better scores, performance), not a failed past. By giving students ideas on how they can be even more successful (as opposed to visualizing a failed past), teachers can increase their chances of achieving success in the future.
2. Focus on a solution, not the problem
It can be more productive to help students learn to be "right," than prove they were "wrong." Negative feedback often tends to produce defensiveness on the part of the student and discomfort on the part of the educator. Sometimes, even constructively delivered feedback is often seen negatively as it necessarily involves a discussion of mistakes, shortfalls, and problems. Feed forward, on the other hand, is almost always seen as positive because it focuses on solutions – not problems.
3. Much faster and efficient
Feedforward tends to be much faster and more efficient than feedback. An excellent technique for giving ideas to your students can be to say, "Here are four ideas for the future. Please accept these in the positive spirit. If you can only use two of the ideas, you are still two ahead. Just ignore what doesn't make sense for you." With this approach almost no time gets wasted on judging the quality of the student's work or "proving that his ideas are wrong". This "debate" time is usually negative; it can take up a lot of time, and it is often not very productive.
---
Like this article for teachers?
Browse the Professional Learning Board COURSE CATALOG to find related online courses for teachers in your state. Professional Learning Board is a leading provider of online professional development classes that teachers use to renew a teaching license or renew a teaching certificate.