How do I Decide on Themes for Bulletin Boards?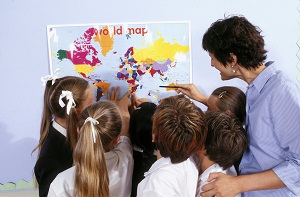 The themes for bulletin boards need to be based on each bulletin board's purpose and the topic that you want to focus on. If you are new to creating bulletin boards, you may want to choose more than one topic and decide on which to implement at a later stage.
Here are some things to keep in mind while choosing the topic. The topic should ideally be:
Something students are interested in (a character from a cartoon, movie, or familiar book) or a topic that they have shown interest in (solar system, cars, or insects).
Something that can be presented easily with images and other visuals. As you think of the theme, think of images that you can use to symbolize that theme. If you are finding it hard to visualize the theme, it may also be difficult to present on a bulletin board.
Something related to what the students already know. (a familiar character or topic).
Something that is new for the students. It must also take learning a step further by teaching them something that they don't already know.
Keep in mind that the topic must be specific in order to be effective. A bulletin board cannot cover a huge amount of content, so a specific topic helps focus. Of course, the specificity of the topic will also be related to the grade level with which you are working. For example, "Birds" may be a suitable topic for a preschool classroom bulletin board, whereas the more specific "Penguins" may be more suitable for a third grade classroom bulletin board.
If you are planning a bulletin board to display students' work (like art or poetry), what you need is a good theme. The theme can be related to the actual work that students have done, or even be a general theme. For example, you might use a theme with black and white colors to display a set of paintings. Or you could work around the theme "animals" to display poetry written about "My favorite animal." Make sure your theme does not conflict with the content of the students' work. For example, it may not look nice if you used a space theme to display drawings of flowers and plants.
Similarly, for a welcome board, or a bulletin board to help students get to know each other, you may want to pick a theme and catchy slogan. This makes the bulletin board interesting and fun. If it is a welcome board, you can even use the same theme to decorate your classroom and add excitement to this process.
Learn More… Take this course: Bulletin Boards: Ideas for Every Classroom
Discuss Here: What are some themes for bulletin boards that would work for your classroom?