How do We Teach Responsible Use of Technology?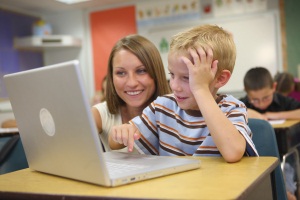 With so many interesting gadgets, and unrestricted access, it's easy for teens and students to get a little "overenthusiastic." It's even possible that technology can drive people away from real friendships, real hangouts, healthy relationships, meaningful activities and even learning.
Just talking to youth about this is never enough. They keep hearing about internet safety everywhere. And they think that we adults just don't understand. So how do we best approach the issue? I think to start with, we need to demonstrate responsible technology use ourselves. If we tell them that they shouldn't send a message while speaking face-to-face with someone, we should model the same behavior. If we ask them to keep their phone on silent, we must make sure that we do that too. Another way that we can make sure that technology doesn't take over the lives of our students is to help them discover and enjoy experiences in the physical world. Sometimes we are so focused on integrating technology in the classroom, that we don't focus enough on engaging in other important types of educational experiences and instructional strategies.
As you consider the responsible use of technology, think about your current practices, and how you might better influence students' understanding and behavior.
What are some things that you have done to teach responsible use of technology?