How to Teach Children with Autism about Social Rules?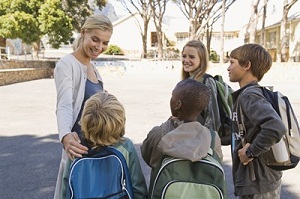 Children with autism struggle with understanding social rules. They have difficulties in areas like starting conversations, talking in a group, disagreeing with someone or behaving the right way in a social situation. As a teacher, it is important to understand how to teach children with autism. You play the role of guiding the student and supporting them to behave in the right way when encountering different situations.
Students with autism often benefit from social or procedure stories (such as "checking back") that illustrate how to act in certain situations. These resources are ways for teachers to create simple stories that can be written and illustrated by anyone who wants a student with autism to learn quickly.
Following is an example of a storyboard for checking back:
Dan's teacher, Ms. Lee asks Dan to feed the hamster. She asks him to check back with her when he is done. When he checks back, she will know he is finished. Dan takes the bowl from the hamster's cage and puts in one scoop of food. When he is done, he checks back with Ms. Lee so she knows that he is done.
Building and using cartoons are also ways for helping students to manage social situations. MakeBeliefsComix and ToonDoo are two online tools that teachers can use to create their own comic books and cartoons.
In your classroom, how would you better encourage and teach children with autism about social rules?
Learn More… Take this course: Introduction to Autism