Multi-Media Textbooks: Are you ready for the revolution?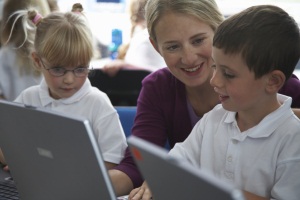 With advances in technology, we have all been watching the way textbooks are being replaced at homes and in classrooms. A new generation of books is now entering the arena. Apple is coming out with their new iBook, a multimedia textbook. Multimedia textbooks are books that contain not only text, they may contain images, videos, puzzles and other learning activities. A number of organizations are already using similar technology, and Apple is going to make it easily available to everybody.
What does this mean to teachers, education and learning? It probably means that we need to start thinking about how we can use etextbooks in our classrooms. We may need to modify our approach to teaching in many ways. There are definitely some benefits that will come from using such e-books. The e-textbooks are fun and interesting. Interactive learning is always best for students, and of course, they are suitable for students with different learning styles.
But as we prepare and plan for this change, there are some questions that we need to think about. Is there a value in not having/being forced to read a textbook vs. being entertained by a new iBook that has movies? Will there be less need for children to learn how to read and write as this technology becomes more accessible and available? Will learning become a passive process?
What are your thoughts on the introduction of Multimedia eTextbooks into our classrooms?