Protect the Internet

Did you go online this past Wednesday? For many of us this seems like a silly question. "Of course, I went online Wednesday. I use the Internet every day."
Well, here at PLB we seriously considered shutting down the site for the day. That's exactly what websites including Mozilla and  Wikipedia (yes, that one) did.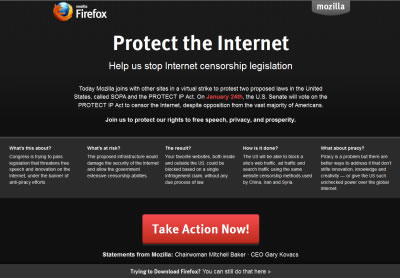 Here's what it's all about:
SOPA and PIPA are being spun so that copyright on the Internet could be protected and preserved. But these laws, if passed will give a huge amount of power to large (Hollywood) corporations and the government. It will allow them to shut down entire websites, and blacklist them so no one can see them if the sites had a link to copyrighted content or are simply being accused of having copyright material without any due process in a court of law.
In addition, these laws will require Facebook, YouTube and similar social networking websites to scrutinize USER content, AND filter it. This translates to the need for many more workers, and to pay all of them, we would have to pay to use these sites.
So, in more than one way, these laws will hamper free expression and sharing through the internet while increasing everyone's costs. It will take a way a lot of our freedom, and change the way we use the Internet.
To teachers this means at the least that creating and sharing content is policed and we may not be able to find such great  shared resources so easily for our teaching. In fact, even Wikipedia could not continue the way it is working at the moment.
So this is what the protest is about. A right to freedon of speech on the Internet.
What are your thoughts? How do you think such laws would impact your teaching?