Rubrics in Learning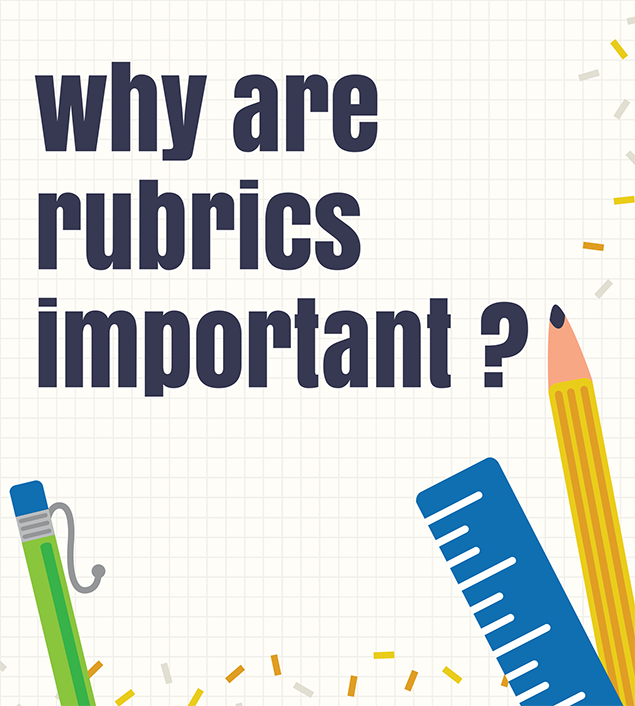 Rubrics in Learning
Rubrics are scoring tools with clear guidelines for assessing and grading students work. However, in the classroom, rubrics have a far more important role than just an assessment tool as it:
Increases Transparency: The guidelines provided by rubrics increase transparency at three levels:
They define what is considered high-quality work, and what each grade stands for.
Both students and parents can clearly understand what is expected from the student in terms of performance, and what is being assessed.
Teachers can save time explaining grades, and instead help students by suggesting measures to improve their work.
Improves Learning: Compared to most assessment tools which score the end product, rubrics assess and provide feedback during the learning process. Use of rubrics empowers students to self-evaluate, correct, or incorporate positive changes in their learning process from the start, thus promoting a feed-forward model of learning.
Track Progress: Students can use rubrics to identify areas or tasks which need to be worked on. Thus, when performing similar new tasks, students can track their learning progress and improvements using the rubric.
Imparts Consistency: The criteria ensure that assessments are objective rather than subjective, so that even if multiple teachers were to assess a student's work, they would all score the same. This is important when students are allowed to assess and score each other.
Tailor-made: Rubrics can be tailored to assess learning objectives for every project, be it individual or group. They provide specific guidelines and criteria for every task and can help teachers accommodate differently abled students. For instance, when evaluating group projects, teachers can make rubrics specific to evaluating objectives, team performance, dynamics and cohesion.
Creating Rubrics:
The effectiveness of a rubric hinges on its design and implementation. Here are some points to keep in mind while designing a rubric:
Keep it student-friendly: Use simple language to convey expectations and learning objectives. Also describe the guidelines or criteria in detail so that it is clear and easy for students to understand and follow.
Be specific and consistent: Teachers must not only specify the areas and skills that are being assessed, but also consistently use the same rubric to assess similar tasks each time. This can help students track their academic progress over the course of a year.
Practice with students: As rubrics are created for students, it is only natural that students be made aware of the purpose and process of implementing rubrics. Try out the rubric with students to help them understand how it improves learning. Teachers can also design rubrics by involving students, increasing their investment in their learning process.
Meaningful rubrics help improve academic performance, and are an asset to the classroom.
---
Like this article for teachers?
Browse the Professional Learning Board COURSE CATALOG to find related online courses for teachers in your state. Professional Learning Board is a leading provider of online professional development classes that teachers use to renew a teaching license or renew a teaching certificate.