The Magic of Brainstorming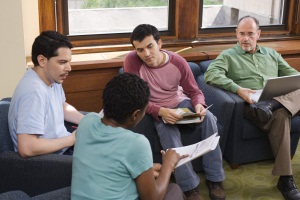 The past couple of weeks, here at Professional Learning Board, we have been discussing various plans and the team has come up with some wonderful ideas. It reminded me about how brainstorming is such an amazing process. When each of us came together we didn't have solutions, but when we worked together to talk and discuss, we were able to build on what we knew and understood, and were able to come up with ideas and plans that were better than what any one of us had initially.
Brainstorming together as teachers can be a great way to grow together. If we can take out time on a regular basis to discuss our lesson plans, curriculums and share ideas for our classrooms, we could walk away with something much better than what we would do on our own. At the school administration- this can be even more essential and have huge benefits.
The most difficult part of this type of communication and connecting process is finding time to get together. So try and make it fun. Meet at a colleague's place or a café, and brainstorm over some snacks and drinks. Or maybe choose to meet out on the school lawn instead of in a classroom.
Taking time to brainstorm together will help you grow as a teacher, and as a learning community.
What do you think are the biggest challenges that prevent teachers from brainstorming and learning together?