What is the Diamond Ranking Strategy?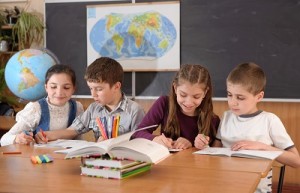 The diamond ranking strategy is an excellent means of encouraging collaboration in the classroom. It also helps students understand text content better and guides teachers in planning based on level of student understanding.
In this strategy, students (paired or grouped) are given an envelope containing a set of statements (usually nine). These statements can also be facts or anecdotes that represent a variety of concepts, opinions and perspectives. Each statement is titled or numbered for easy reference.
Students are instructed to rank each statement and arrange them in a diamond formation. The criterion for ranking can be simple and general like "importance, relevance, significance" or can be detailed and content specific.
Students must place the statement with the highest priority at the top of the formation and the least important statement at the bottom. The second, third and fourth row consists of statements that are ranked with descending priority, with each row having two, three and two statements respectively.
After completing the task, each group is asked to explain their choice of ranking. The smaller groups can then be combined to form a larger group of six students and instructed to decide on a consensus ranking for the entire set of statements.
Additional ideas:

To increase the complexity of the activity and to encourage further reasoning and thought, certain changes can incorporated. One, provide the students with a set of criterion and instruct them to choose the most appropriate one. Two, provide them with the statements and ask them to discuss and decide on a criterion for ranking. Three, the statements are arranged in a diamond formation with imperfect ranking. Students are informed of the criterion (or can come up with their own) and should re-arrange the formation in the correct order.
You can also give additional statements (for example, twelve statements) and instruct them to dismiss three statements that are least fitting with the criterion or considered least important. Another method is to provide images, cartoons or keywords (of a topic) instead of statements. In all these variations, a discussion is initiated, and students are encouraged to explain their rationale and choice of ranking.
You can also direct the discussion to encourage students to share their thought process regarding the activity, its usefulness, the relevance to the topic and its effectiveness.
Why use the strategy?
Diamond ranking strategy encourages active participation of every student. It helps them to prioritize information, clarify thoughts and enhances their ability to focus, reason and reflect on the information presented. As students are expected to rationalize their choices, presentation and debating skills are facilitated.
Through peer interaction, it targets the facilitation of discussion, sharing information, accommodating perspectives of others, negotiating, and consensus seeking.
Discuss here: How did you use the strategy in your classroom?