What is Physical Abuse?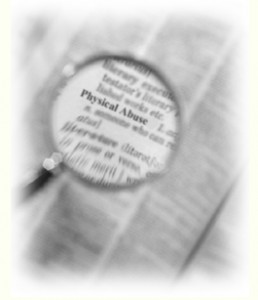 Each State provides a definition for physical abuse. It is generally defined as
"any nonaccidental physical injury to a child," and can include:
Punching, beating, kicking, burning, biting, shaking, throwing, slapping, inappropriate restraint, stabbing, choking, hitting (with a hand, stick, strap, or other object), burning, misuse of medications or other action that results in a physical injury (eg. bruises, internal, fractures or death).

Physical abuse may result from extreme discipline or punishment that is inappropriate to the child's age or condition or a caretaker may experience recurrent lapses in self-control brought on by immaturity, stress, or the use of alcohol/drugs.
It is critical to note that these actions are considered abusive even if there is no intent to hurt a child. While an injury may not be an accident, it also may not be the intent of a child's caretaker to injure the child.
There are both behavioral and visual signs that may indicate a child is a victim of physical abuse.
The following behaviors by a child may be signs that they are being abused:
Reports an injury caused by an adult.

Avoids social contact or seems withdrawn.

Behaves aggressively.

Acts out with excessive anger or rage.


Withdraws in response to physical actions by adults, e.g. hand raising .
It is important to remember that none of these signs alone prove that a child is being mistreated. When several signs appear repeatedly, it may be cause for concern.
From Professional Learning Board's online continuing education course for teachers: Recognizing and Preventing Child Abuse