What Is The Role of "Scaffolding" In The Classroom?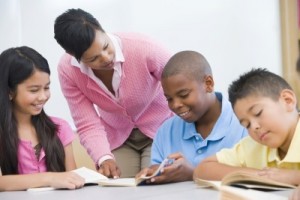 The dictionary defines "scaffolding" as 'a temporary structure used to support people and material in the construction or repair of buildings and other large structures.' Even for teachers providing classroom instruction there is a need for 'scaffolding' support, which is given by the teacher throughout the lesson in the form of adequate explanations and detailed instructions for all concepts and materials being taught. This makes it easier for students to understand difficult concepts and to clear any doubts they may have. When presenting cognitive strategies that cannot be observed directly, the teacher describes those strategies for students.
Examples of verbal explanations used as scaffolds to aid in instruction:
'talk-alouds:' The teacher describes and explains each step of a cognitive strategy.
'think-alouds:' The teacher applies a cognitive strategy to a particular problem or task and verbalizes the steps in applying the strategy.
Examples of written explanations used as scaffolds to aid in instruction:
Exemplars of academic work such as essays and completed math word problems. The teacher makes these available to students for use as models and keep them engaged in their lessons by using 'active accurate responding' to capture student attention and optimize learning.
Collaborative Assignments are also excellent as they give students frequent opportunities to work collaboratively in pairs or groups.
Discuss here: What are some Scaffolding strategies that you use while you teach?
Learn more: Take a course