Classroom Behavior Basics: Language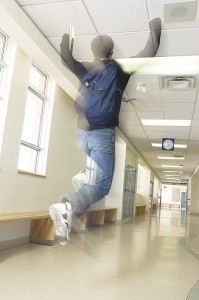 Various forms of punishment, including physical, were once used widely in school settings to manage student behaviors. Today, research indicates that when used regularly to manage behaviors, punishment is often accompanied by significant negative side effects. It is recommended to provide consistent consequences that TEACH expected behaviors rather than PUNISH misbehaviors and avoid any overuse of punishment as a disciplinary consequence.
So, is punishment the same as consequence? No.
Punishment is imposed on somebody for wrongdoing. It may or may not be determined to be a consequence.
Consequences are corollary.
What's the difference between punishment and consequence? A fine line. Here's an example:
Behavior: Fred hits Barney's car with a rock. (Note, it does not matter whether or not the act of car-being-hit-by-rock was intentional or not.) Consequences may include: dent in car, no damage to car, rock on ground near car, Barney hears "thud" and sees Fred smiling, Barney is angry with Fred
Punishment may include: Barny yells at Fred, Fred cowers chauffeuring Barney throughout town, Fred repairs damage
PUNISHMENT
CONSEQUENCE
Definition:

Penalty for doing something wrong and is imposed on somebody, even self-imposed, for wrongdoing.
Synonyms:

Definition:

The relation between a result and its natural cause as a result of something.
Synonyms:

discipline
retribution
reprimand
penalize
chastise
sentence

result
upshot
effect
outcome
end result
From Professional Learning Board's online continuing education course for teachers: Positive Behavior Intervention Strategies