How Can I Help Students in a Multicultural Classroom Prepare for Emergencies?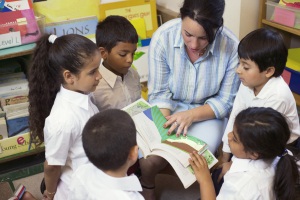 In a multicultural classroom, where you have students from different backgrounds, responses to emergencies can be very different. Schools in other countries may not conduct any drills for fires and other emergencies. Thus, hearing a loud bell unexpectedly and seeing students move quickly can be frightening, even terrifying, to a newly arrived learner. Think of someone coming from a war-torn country where alarms may have signaled air-raids or other attacks. Prepare students before drills happen, and with translation if possible.
In addition, make sure a student who is not fluent in English, knows what to do in case of illness. If possible, perhaps with a parent's help, prepare a card the student can present that says "May I go to the nurse?" in English and in his first language. This way, he won't have to face the challenge of asking in English, or be too intimidated to ask and therefore suffer in silence, when he is not feeling well.
Consider what other events or procedures may be confusing to someone from another country so these can be proactively addressed and explained ahead of time.
Discuss here: How do you tackle emergencies in a multicultural classroom some students are not fluent in English?
Learn more: Take a course