How can I use Digital Storytelling in the Classroom?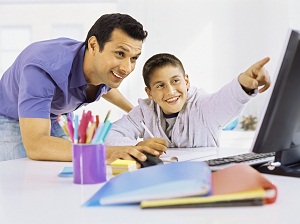 Digital Storytelling in the classroom is about using technology to tell a story. It is similar to traditional storytelling, but in this case, we use computers to complement and add to the storytelling experience by using a variety of tools and aids like Microsoft Word, blogs and other websites. It allows the author, students in this case, to be creative and use a variety of media including images, audio and video.
Digital storytelling can be used to reinforce subject matter, to share an experience or present some new information in a creative and interesting way. It can be used as homework, classroom group projects, or a holiday project for students. You may want to start by giving your students something small and perhaps ask them to create a short 30 second video report on a movie that they have watched recently. Another assignment that would interest many of them would be to make a video on their own lives.
Digital storytelling requires various tools to create the story, including a computer. An internet connection, a camera or a video recording tool, a voice recorder or microphone, a music keyboard and a scanner can also be used. These tools can enhance and bring life to a digital story.
Digial storybooks can be simple or complex, depending on the creator's skill set. Professional storybooks are created with video software like iMovie, or Movie Maker, and other audio and image editing software. Professionals may even create their own music to go with the video. On the other hand, a digital storybook can even be created by embedding a sound track into a powerpoint presentation or using some simple online tools like those suggested here.
Process of Digital storytelling
There are various steps to digital storytelling:
The first obvious step is planning. Helping students plan their storyline helps them envision the story and implement it easily. The next step would be to collect images, videos or audio that they may need. They may need to record the audio in a quiet room, collect music tracks and shoot or collect videos that they are going to use. They may want to do some interviews to make the story even more interesting and interactive. They may also rehearse telling the story verbally and record it. You may experience a few technical difficulties when you start, and that's all part of the learning process.
Looking at similar work done by others on the internet is a great way for students to expand their horizons. Often someone else's work can trigger off a new concept or idea that can be successful.
Presenting the Video
The final step to the process of digital storytelling is to provide an opportunity for students to present their video in the classroom. Make sure you have a projector or similar equipment to allow the student to display their work to the whole class.
Thus, digital storytelling is an exciting new way to get students to learn and present their learning. It's also a great way to prepare our students for the tech- savvy world that they are in.
Learn More… Take this course: Technology in the 21st Century Classroom
Discuss Here: What are some ways in which you can encourage digital storytelling in the classroom?