How can I get Students Involved in the Learning Process?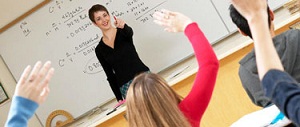 One way to "light the spark" of motivation in a classroom and get students involved is by giving students a prominent voice in learning activities.
As a homework assignment, for example, you may encourage students to submit sample questions for an upcoming test. It's important to regularly select several of these student-generated items to incorporate into actual tests.
You might collaborate with the class while making decisions about major learning activities (for example, selecting the location for a field trip and deciding on the student assignment that is to be the outcome of that excursion).
Teachers can have students answer a brief learning style questionnaire to help determine their preferred learning methods for acquiring new information, participating in  review activities, and completing quizzes and tests.  Some common learning styles they may choose are lecture, small group, and/or independent work-just to name a few.
Teachers, who sincerely seek student input into how the class is run, can increase the motivation level of even the most difficult-to-motivate students.
Furthermore, students are more attentive during large-group presentations if they cannot predict when they may be required to actively participate. Randomly call on students, occasionally selecting the same student twice in a row or within a short time span. One way to do this is to place all students' names in a container and select them randomly. Remember to put each student back into the pool too.
What are some of the other ways you can get students involved in the classroom?
Learn more…Take this course: Positive Behavior Intervention Strategies