Identifying Signs of Emotional Abuse in Children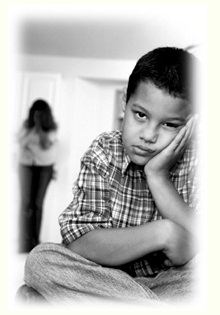 Emotional abuse, by definition, may include constant criticism, threats, or rejection, as well as withholding love, support, or guidance. This abuse may even include labeling a child with names such as stupid, idiot or dummy. Acts that reject, belittle or ignore children, terrorize them or isolate them from others can also be considered emotionally abusive.
It is important to keep an eye on the students in your classroom and recognize signs of emotional abuse in children.
A child who sometimes shows the following signs of extreme behaviors may be a victim of emotional abuse. When considering whether or not a child is being abused, ask yourself "Is the child . . . "
Acting age-inappropriately (too "adult-like" or "babyish")?

Having suicidal thoughts or attempting suicide?

Excessively passive or uncaring?

Overly compliant?

Taking blame for everything, even if not at fault?

Aggressive, defiant and/or demanding?

Fearful of familiar people, places or things?

Inappropriate such as turning negatives into jokes or laughing when in pain?

Extreme in behavior – manically happy or very depressed?

Withdrawn – no verbal or physical communication with others?

Self-destructive (e.g. cutting oneself )?

Destructive or delinquent?

Compulsive with attention to detail?

Cruel to others or animals?

Vandalizing, stealing, cheating

, gambling, and/or lying?

Rocking, thumb sucking, and/or head banging?

Wetting or soiling one's pants after an age when such behavior is inappropriate?

Using/abusing drugs or alcohol?

Exhibiting

frequent stomachaches or headaches, or experiencing unexplained weight loss/gain?
Remember, emotional abuse often accompanies neglect, physical or sexual abuse.
Have you known children who have been emotionally abused? Share your experiences.
From Professional Learning Board's online continuing education course for teachers: Recognizing & Preventing Child Abuse