PARENTS: Boost Your Child's HQ (Homework Quotient)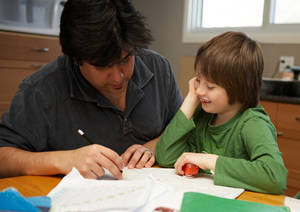 Is "homework" a source of dread, dissension, perhaps even disgust in your home? Are you wondering what prevents your children from getting homework done, done on time, and done willingly? Here are four common productivity-dragons and suggestions on how to "slay" them.
1. LACK OF ORGANIZATION
Make certain the child has a space set aside for doing homework. It should be quiet, well-lit and properly equipped. At least once a week put an encouraging sign on the wall.
2. LACK OF FUN
Yes, you can make it fun. For example, tack flip chart paper to a wall and pop in once a night (at different times) and ask the child to recap via magic marker all he has done/learned so far. These review sessions reinforce the learning. Plus, they add a bit of pressure–reminding the student that you will be expecting the chart paper to be filled. Further, the sheets can be saved and used again when the child is studying for a test.
3. TELEPHONE/COMPUTER
Remove these two time-wasters from the learning environment. If you can't put the computer in a different room or if it's required for assignments, then make it understood that if it's on, it must be used only for homework purposes.
4. PETS (and other interruptions)
Make everyone in the household aware of the study time and keep it.
5. POOR TIME MANAGEMENT
Spend a minute before the homework begins discussing with your child what he or she will be doing, what are the priorities, how much time will be required, et cetera.
By Marlene Caroselli, Ed.D