Teacher Resources, Tools & Giveaways for the week (July 12 – 19, 2014)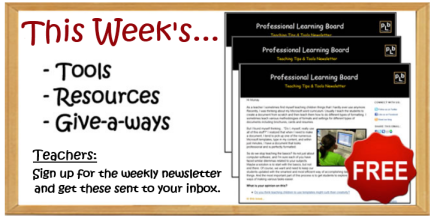 TOOLS
VoiceThread
An interactive collaboration and sharing tool that enables users to add images, documents, and videos.
cram
Find or make your own flash cards.
Diffen
Compare any two things easily.
RESOURCES
thatquiz
Math quizzes adjustable by number of questions, difficulty, and feedback.
Neok12
Educational videos, lessons and games for K-12 students.
Imaginative Narrative Topics
Writing prompts for students.
GIVEAWAY OF THE WEEK
Headphones
Enter in the rafflecopter widget for a chance to win a pair of headphones.
NAPPA Awards Tablet
Enter for a chance to win this Vtech WiFi learning app tablet, Innotab 3s.
As always before using tools or resources be sure to conduct due diligence regarding alignment of the material and content with your local values, curriculum, and standards.