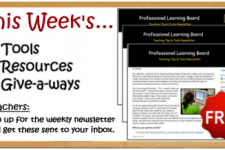 TOOLS
News-O-Matic
Newspaper for kids on iOs and Android.
Socratic Smackdown
A framework to develop discussion and debate skills.

RESOURCES
Science is Fun
Activities for science.
Cell games
Game & Quiz about different parts of a bacterial, animal&  plant cell.
Theme Poems
Learn and create your own poem.

GIVEAWAYS
Magformers
Here is a chance to win this magnetic construction set.