Teacher Resources, Tools & Giveaways for the week (June 28 – July 5, 2014)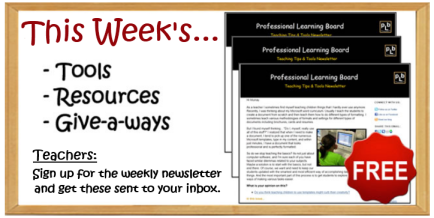 TOOLS
ONLINE DICTATION
A tool to transcribe speech.
iStudiez Lite
An app to organize and schedule courses, assignments, classes and homework.
FineTune
A professional development tool that helps to critically evaluate and respond to student writing.
RESOURCES
Motion Math
Delightful math games for elementary students.
Taxonomy
Sample rubrics for Bloom's Digital Taxonomy
Encalc
An online scientific calendar which can handle units and dimensional analysis.
GIVEAWAY OF THE WEEK
Gift card
Post a photo on Facebook, Instagram or Twitter, with the specified components, for a chance to win a $500 Macy's gift card each week!
School Supplies
Here is a chance to win one of the five Yoobi goodie boxes.
As always before using tools or resources be sure to conduct due diligence regarding alignment of the material and content with your local values, curriculum, and standards.