Using Wikis in the Classroom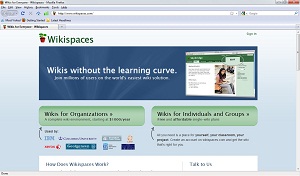 A wiki is simply a website that can easily be edited by many people. Users don't need any specialized computer training and can add content with just a few clicks of a mouse.
Wikis in the classroom context can be used to collect and share resources for presentations and workshops. They can also be used by students to do the same. This can help students work together on group assignments and research projects.

In brief, the creator of a wiki has control over who makes changes and always has the ability to edit anything added to the content.

Part of the beauty of using wikis is that you can let other people add content as well as suggest or make changes. Wikis are tools for making group work a breeze and bringing people together across a span of geographic locations. Wikis can also be the place where students might collaborate on projects. Most of the readings and resources related to wikis are in themselves – wiki web sites.
Wikis in the classroom can be a destination where educators may ask questions and share ideas over a network. It is also a wonderful place to find other teachers and classrooms from around the world for collaborative projects and global exchanges.
How can you connect with others through wikis?
From Professional Learning Board's online continuing education course for teachers: Web Technology for Teachers