What are Digital Storyboards?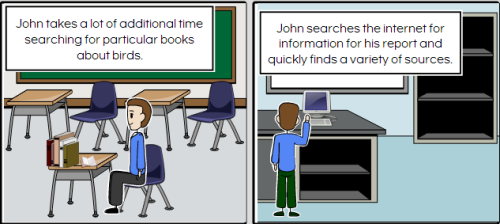 A storyboard is a written or graphical representation of all of the elements that will be included in a digital story. The storyboard is usually created before the actual work of creating the digital story begins and a written description and graphical depiction of the elements of the story, such as images, text, narration, music, transitions, etc. are added to the storyboard. The elements of the story are arranged in the storyboard in the chronological order in which they will appear in the story. This allows the teacher to organize and rearrange the content for maximum effect.
From a practical point of view, teaching with storyboards can help teachers quickly convey complex ideas to their students often much faster than writing or even speaking. They can also help to remove barriers that might exist in schools where English may not be the primary language spoken by some students. Digital Storyboards are used as an after-reading strategy in the classroom.
Some storyboard software are:
Some ways storyboards can be used in the classroom:
Science: Use them to visualize different theories about everything from the Big Bang to the trajectory of a catapult.
History: Storyboard famous events to help students remember details of a period in history and place them on a timeline.
They work well for any subject that requires students to memorize step-by-step processes or visualize highly-conceptual ideas, such as life science or computer technology.
For teachers, storyboarding can be a great help in writing a paper, doing an oral presentation, or outlining a story.
When students are working on crafting the "narrative," they can shuffle the images around as needed to see if they work better in other areas.
Younger students can do a version of this by listening to a story and then drawing a few storyboards of the main events in order to summarize it.
Discuss here: What after-reading strategies do you use in your classroom to help students understand what they have read?