What are Some Creative Ways I can Use a Listening Library in my Classroom?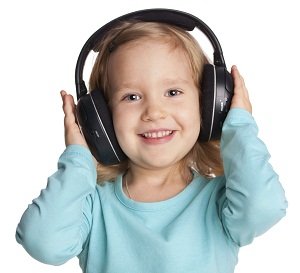 In a world where written literacy is now rare and students are not familiar with books and are unprepared to read, listening plays a significant role. Teachers are being forced to deal with this problem with minimum time and a crowded curriculum. Audiobooks play a huge role in educating students and even in teaching them to read better. This is where a listening center or library comes into play.
A listening library is a collection of audiobooks that students can access and read as part of their curriculum. These may be located at a listening center in the classroom, or even online. The traditional view of a listening center involves a tape recorder and a few cassettes, however technology has now expanded this concept for us. In today's world, one may include a computer, tablet, ipod and other wireless devices to the listening center.
Using computers
Computers are a tool for creativity. They allow us to implement a whole range of ideas that could enhance the listening center. They allow us to record and play back sounds and messages. This can be useful for listening exercises and can play a huge role as an educational tool.
Computers play pretty much any type of CD, DVD or Blu-Ray disk. The VLC player is a free music/video player that plays most formats. It can be easily downloaded on to the computer through the website. It is recommended that you download this software to save yourself a lot of trouble, especially if you are not quite so handy with technology.
Teachers can also set up a listening center on a website where students can access it from home or anywhere they are.
Using an iPod
An iPod is a device that can store songs and audio clips and can be played back through earphones, headphones or a speaker. The specialised software suitable for the iPod is the iTunes. The iTunes is an application that helps you organize your audio files to allow you to play anything you want instantly. You could also organize all your educational content in different folders, divided by classes or subjects or even topics. The iTunes may be downloaded online.
Students may also download some application on to their personal devices, like their phone or ipods, and do their homework on the go.
Setting up the listening center
Some helpful tips to setting up the listening center are:
Teacher-made recordings
Teachers can record instructions in their own voice and play it back later at the center. This acts as a smooth learning tool and the familiar voice can help ease students. It can also be used to describe the pages and pages and serve as an index for the audio tracks.
Literature
The use of literature is not limited to a print shop. Audio books can help bring literature to the students at the listening centre. You may also add articles from newspapers and magazine that could be of interest to the students, plays and poetry to the listening center. Audio books can also be located and accessed online.
Activity-oriented approach
Students prefer doing than listening. It is, therefore, important that we include tons of activities in the listening center. Students can be given worksheets, questions, and games to make the process of learner a lot easier.
Learn More… Take this course: Reading Across The Curriculum
Discuss Here: What are some of the other things we could do to enhance a listening library in the classroom?